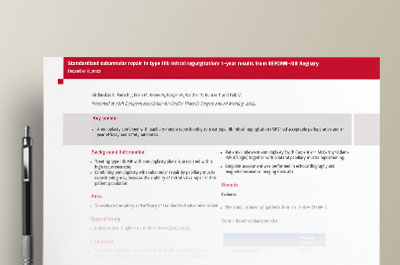 Suggested Posts for you
Standardized subannular repair in type IIIb mitral regurgitation: 1-year results from REFORM-MR Registry
Girdauskas E, Pausch J, Eden M, Krane […]
Standardized subannular repair in type IIIb mitral regurgitation: 1-year results from REFORM-MR Registry
Girdauskas E, Pausch J, Eden M, Krane M, Borger M, Walther T, Kuntze T and Falk V.
Presented at 36th European Association for Cardio-Thoracic Surgery Annual Meeting, 2022.
Annuloplasty combined with papillary muscle repositioning to treat type IIIb mitral regurgitation (MR) had acceptable perioperative and 1-year efficacy and safety outcomes.
Treating type IIIb MR with annuloplasty alone is associated with a high recurrence rate.
Combining annuloplasty with subannular repair by papillary muscle repositioning may increase the stability of mitral valve repair in this patient population.
To evaluate the safety and efficacy of standardised subannular repair.
A prospective, single-arm, multicentre registry study.
The primary endpoint was freedom from MR >2+ after 2 years.1
Secondary endpoints included survival, major adverse cardiac and cerebrovascular events and reinterventions.
The study included patients with secondary MR, left ventricular ejection fraction (LVEF) ≤50%, left ventricular end-diastolic diameter (LVEDD) ≥55 mm and tenting of the proximal or anterior mitral leaflets >10 mm.
Patients underwent annuloplasty (with Carpentier- McCarthy-Adams IMR ETlogix) together with bilateral papillary muscle repositioning.
Endpoint assessment was performed in echocardiography and magnetic resonance imaging CoreLabs.
The study included 94 patients from six centres (Table 1).
Table 1. Baseline characteristics.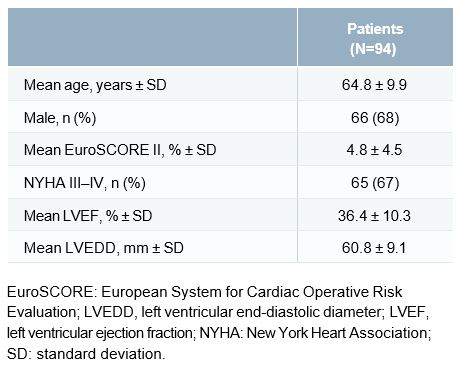 The mean cardiopulmonary bypass time was 158 ± 40 min.
Five patients (5%) developed low cardiac output syndrome and two patients (2%) experienced stroke.
One patient died during the hospital stay (1.4%).
At discharge, 43 patients (49%) were free of MR, and 35 (40%) had mild and 9 (10%) moderate residual MR.
Echocardiographic results
At 1-year, 95.8% of patients were free of MR >2+ (Kaplan-Meir analysis).
There was improved left ventricular (LV) geometry (remodeling) and reduced tenting parameters at 1-year.
Survival
The survival rate at 1-year was 95.5%.
Standardised subannular repair by papillary muscle repositioning showed acceptable perioperative and 1-year efficacy and safety outcomes in patients with functional MR, including a low MR >2 recurrence rate.
Improved LV remodeling and tenting parameters were also evident 12 months after surgery. A 2-year follow-up of the study population is currently underway.
NCT03470155. Available at: https://clinicaltrials.gov/ct2/show/ NCT03470155. [Accessed September 2022].
This document is a summary of the Girdauskas E et al. presentation, as presented at the EACTS congress and covers key information including aim, type of study, methods, results and conclusions.
The full publication is available at: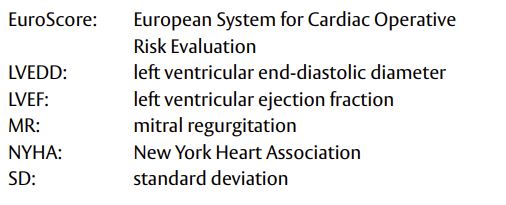 Medical device for professional use. For a listing of indications, contraindications, precautions, warnings, and potential adverse events, please refer to the Instructions for Use (consult eifu.edwards.com where applicable).
Edwards, Edwards Lifesciences, the stylized E logo, Carpentier-McCarthy-Adams IMR ETlogix and IMR ETlogix are trademarks or service marks of Edwards Lifesciences Corporation. All other trademarks are the property of their respective owners.
© 2022 Edwards Lifesciences Corporation. All rights reserved. PP–EU-5310 v1.0
Edwards Lifesciences • Route de l'Etraz 70, 1260 Nyon, Switzerland • edwards.com