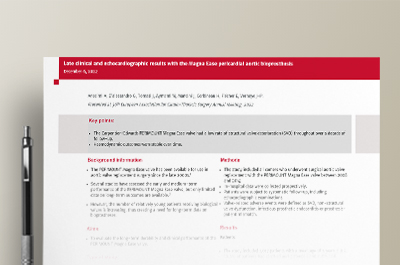 Suggested Posts for you
Late clinical and echocardiographic results with the Magna Ease pericardial aortic bioprosthesis
Anselmi A, D'alessandro G, Tomasi J, Aymami […]
Late clinical and echocardiographic results with the Magna Ease pericardial aortic bioprosthesis
Anselmi A, D'alessandro G, Tomasi J, Aymami M, Mancini J, Corbineau H, Flécher E, Verhoye J-P.
Presented at 36th European Association for Cardio-Thoracic Surgery Annual Meeting, 2022. 
The Carpentier-Edwards PERIMOUNT Magna Ease valve had a low rate of structural valve deterioration (SVD) throughout over a decade of follow-up.
Haemodynamic outcomes were stable over time.
The PERIMOUNT Magna Ease valve has been available for use in aortic valve replacement surgery since the late 2000s.1
Several studies have assessed the early and medium-term performance of the PERIMOUNT Magna Ease valve, but only limited data on long-term outcomes are available.2
However, the number of relatively young patients receiving biological valves is increasing, thus creating a need for long-term data on bioprostheses.
To evaluate the long-term durability and clinical performance of the PERIMOUNT Magna Ease valve.
A single-centre study with systematic follow-up.
Endpoints included overall survival, echocardiographic results, and freedom from SVD, reinterventions for SVD, or valve-related death.
The study included all comers who underwent surgical aortic valve replacement with the PERIMOUNT Magna Ease valve between 2008 and 2014.
In-hospital data were collected prospectively.
Patients were subject to systematic follow-up, including echocardiographic examinations.
Valve-related adverse events were defined as SVD, non-structural valve dysfunction, infectious prosthetic endocarditis or prosthesis-patient mismatch.
The study included 1,017 patients with a mean age of 4 years ± 9.5; 59.6% of patients had calcified aortic stenosis and 11.9% had bicuspid morphology.
The majority of procedures were elective (95.1% vs 4.9% non-elective procedures) and 34.1% of patients underwent concomitant procedures.
A total of 975 patients entered follow-up (median follow-up: 8 years; follow-up completeness: 100%), 57.9% (n=565) of whom survived.
The median follow-up time among survivors was 9 years (95% confidence interval 0.2–13.4).
Table 1. SVD and SVD-related reinterventions (Kaplan–Meier analysis).

Survival
Overall survival was 8% after 10 years and 43.2% after 12 years.
Twenty valve-related deaths occurred during follow-up.
Freedom from valve-related death was 8% after 10 years and 96.9% after 12 years.
SVD
The number of SVD events was 28 after 6.9 ± 3.3 years of follow-up (Table 1).
The number of valve-related reinterventions was 31 after 8 ± 2.9 years.
Haemodynamics performance
Haemodynamic performance was stable from discharge to last available follow-up (Table 2).
Table 2. Haemodynamics function at discharge and last follow-up.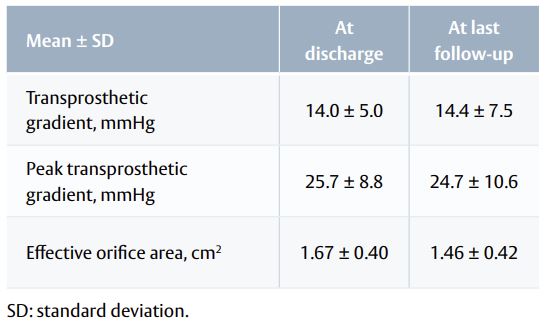 The PERIMOUNT Magna Ease valve showed optimal and maintained haemodynamic performance with good durability and limited other valve-related adverse events for up to 12 years after implantation. There is a need for studies with longer follow-up periods, because many patients receiving bioprostheses have a life expectancy longer than 12 years.
Edwards Edwards Lifesciences receives FDA approval for new heart valve. Press release, 08 May 2009. Available at: https://www.edwards.com/ns20090508. [Accessed October 2020].
 
Mayr B, Burri M, Vitanova K et al. Serial echocardiographic evaluation of the Perimount Magna Ease J Thorac Dis. 2021; 13: 4104-13.
This document is a summary of the Anselmi A et al. presentation, as presented at the EACTS congress, and covers key information including aim, type of study, methods, results, limitations and conclusions.
The full publication is available at:

Medical device for professional use. For a listing of indications, contraindications, precautions, warnings, and potential adverse events, please refer to the Instructions for Use (consult eifu.edwards.com where applicable).
Edwards, Edwards Lifesciences, the stylized E logo, Carpentier-Edwards, Carpentier-Edwards PERIMOUNT, Carpentier-Edwards PERIMOUNT Magna Ease, Magna, Magna Ease, PERI, PERIMOUNT and PERIMOUNT Magna are trademarks or service marks of Edwards Lifesciences Corporation. All other trademarks are the property of their respective owners.
© 2022 Edwards Lifesciences Corporation. All rights reserved. PP–EU-5313 v1.0
Edwards Lifesciences • Route de l'Etraz 70, 1260 Nyon, Switzerland • edwards.com