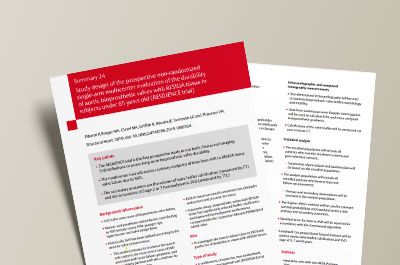 Suggested Posts for you
RESILIENCE trial study design: evaluating the durability of RESILIA tissue valves in subjects under 65 years old
Keywords: aortic bioprostheses; aortic valve replacement; structural […]
RESILIENCE trial study design: evaluating the durability of RESILIA tissue valves in subjects under 65 years old
Keywords: aortic bioprostheses; aortic valve replacement; structural valve degeneration
Long-term durability is a key concern for bioprosthetic valves, but measuring structural valve degeneration (SVD) has been complicated by different SVD definitions. The RESILIENCE trial is the first prospective study to use both clinical and imaging SVD definitions to assess long-term valve durability.
This summary describes the design of this multicentre, prospective trial. The trial will investigate predictors of durability and time to failure in RESILIA tissue valves, which are treated to minimise free aldehydes and preserve the tissue.
The trial will include up to 250 adults from up to 15 centres. The primary endpoint is time to valve failure due to SVD, while the secondary endpoints are valve leaflet calcification volume and SVD stage 2 or 3. Non‑contrast computed tomography and transthoracic echocardiography will be carried out at 5, 7, 9 and 11 years after valve implantation to assess valve morphology and haemodynamics.
Download below to keep up to date with the latest research in aortic valve replacement.
Click here to access the full publication
For professional use. For a listing of indications, contraindications, precautions, warnings, and potential adverse events, please refer to the Instructions for Use (consult eifu.edwards.com where applicable).
Edwards devices placed on the European market meet the requirements for bearing the CE marking of conformity.
Edwards, Edwards Lifesciences, the stylized E logo, Carpentier-Edwards, PERI, PERIMOUNT, and RESILIA are trademarks of Edwards Lifesciences Corporation or its affiliates. All other trademarks or service marks are the property of their respective owners.