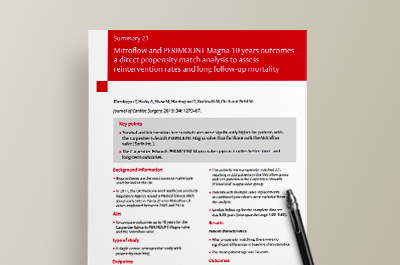 Suggested Posts for you
Mitroflow versus Carpentier-Edwards PERIMOUNT Magna valve: 10-year outcomes
Keywords: bioprosthesis; aortic valve replacement; long-term outcomes; […]
Mitroflow versus Carpentier-Edwards PERIMOUNT Magna valve: 10-year outcomes
Keywords: bioprosthesis; aortic valve replacement; long-term outcomes; reintervention; mortality
Bioprostheses are the most common valve type used for aortic valve replacement (AVR) in the UK. Early structural valve degeneration of 19- to 21-mm Sorin Mitroflow LX valves led the UK Medicine and Healthcare products Regulatory Agency to issue a Medical Device Alert in 2017.
This summary presents key data from a single-centre, retrospective study comparing outcomes for the Mitroflow valve and the Carpentier-Edwards PERIMOUNT Magna valve. Theologou et al. analysed data from 2,608 patients, assessing aortic valve reintervention and mortality rates up to 10 years.
Download below to keep up to date with the latest research in AVR.
Click here to access the full publication
For professional use. For a listing of indications, contraindications, precautions, warnings, and potential adverse events, please refer to the Instructions for Use (consult eifu.edwards.com where applicable).
Edwards devices placed on the European market meet the requirements for bearing the CE marking of conformity.
Edwards, Edwards Lifesciences, the stylized E logo, Carpentier-Edwards, Magna, PERI, PERIMOUNT, and PERIMOUNT Magna are trademarks of Edwards Lifesciences Corporation or its affiliates. All other trademarks or service marks are the property of their respective owners.