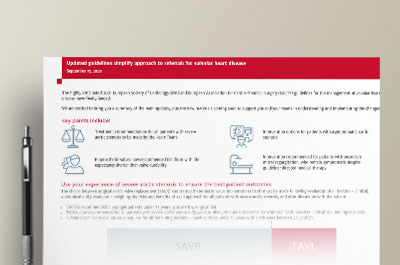 Suggested Posts for you
Updated guidelines simplify approach to referrals for valvular heart disease
The highly anticipated 2021 European Society of […]
Updated guidelines simplify approach to referrals for valvular heart disease
The highly anticipated 2021 European Society of Cardiology (ESC) and European Association for Cardio-Thoracic Surgery (EACTS) guidelines for the management of valvular heart disease have finally landed.
We are excited to bring you a summary of the main updates, plus the new materials coming soon to support you and your teams in understanding and implementing the changes.
Key points include:

Treatment recommendations for all patients with severe aortic stenosis to be made by the Heart Team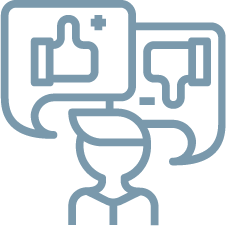 Intervention options for patients with asymptomatic aortic stenosis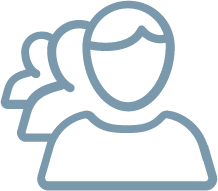 Bioprosthetic valves now recommended for those with life expectancy shorter than valve durability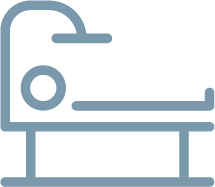 Intervention recommended for patients with secondary mitral regurgitation, who remain symptomatic despite guideline-directed medical therapy
Use your experience of severe aortic stenosis to ensure the best patient outcomes
The choice between surgical aortic valve replacement (SAVR) and transcatheter aortic valve implantation (TAVI) must be made following evaluation of all factors – clinical, anatomical and procedural – weighing the risks and benefits of each approach for all patients with severe aortic stenosis, and after discussion with the patient.
SAVR is recommended in younger patients under 75 years, who are low surgical risk
TAVI is now recommended for all patients with severe aortic stenosis 75 years or older, who are suitable for transfemoral TAVI, based on clinical trial and registry data.
Further Heart Team evaluation is required for all remaining patients – such as those under 75 years with a risk score between 4% and 8%

Treatment options have broadened for patients with asymptomatic aortic stenosis, including those with systolic left ventricular (LV) dysfunction (LV ejection fraction <55%) without another cause.
Enable more of your patients to live the active lifestyle they desire
Bioprosthetic valves now have a Class I recommendation for patients with life expectancy lower than the durability of the valve. Now, more of your patients can live a life free from anticoagulation. In addition, bioprosthetic valves may be considered for patients already on long-term novel oral anticoagulants.
Ensure you meet your patients' high expectations by offering them the best valve technologies.
Be courageous, be experienced, be ethical… according to the guidelines!
Join us from the comfort of your office for a virtual symposium discussing the changes and what they mean for your practice. Eleven speakers from across Europe will cover the implications for the aortic, mitral and tricuspid valves. Click here for the full programme.
Tuesday 21 September 2021
3.00–7.45 pm CET
Coming soon from Edwards
Order for free the 2021 ESC Pocket Guidelines: ESC/EACTS Guidelines on the management of valvular heart disease
Find a full summary of the EACTS congress, plus all you need to know from the guidelines
---
Edwards, Edwards Lifesciences, and the stylized E logo are trademarks or service marks of Edwards Lifesciences Corporation or its affiliates. All other trademarks are the property of their respective owners.
© 2021 Edwards Lifesciences Corporation. All rights reserved. NP–EU-0633 v1.0
Edwards Lifesciences • Route de l'Etraz 70, 1260 Nyon, Switzerland • edwards.com