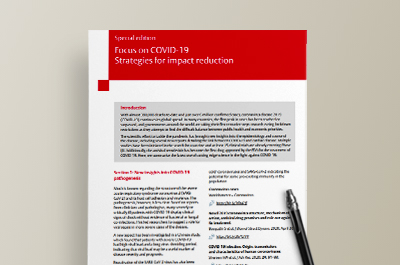 Suggested Posts for you
Focus on COVID-19 Strategies for Impact Reduction
Introduction With almost 380,000 deaths to date […]
Focus on COVID-19 Strategies for Impact Reduction
Introduction
With almost 380,000 deaths to date and just over 6 million confirmed cases, coronavirus disease 2019 (COVID-19) continues its global spread. In many countries, the first peak in cases has been reached or surpassed, and governments around the world are taking their first tentative steps towards easing lockdown restrictions as they attempt to find the difficult balance between public health and economic priorities.
The scientific effort to tackle the pandemic has brought new insights into the epidemiology and course of the disease, including several new reports detailing the link between COVID-19 and cardiac disease. Multiple studies have been initiated in the search for a vaccine and at least 15 clinical trials are already entering Phase I/II. Additionally, the antiviral remdesivir has become the first drug approved by the FDA for the treatment of COVID-19. Here, we summarise the latest use of cutting-edge science in the fight against COVID-19.
COVID-19 Strategies for impact reduction summary
For professional use.
Edwards Lifesciences, the stylized E logo, are trademarks of Edwards Lifesciences Corporation or its affiliates. All other trademarks or service marks are the property of their respective owners.
© 2020 Edwards Lifesciences Corporation. All rights reserved. PP–EU-0209 v1.0
Edwards Lifesciences• Route de l'Etraz 70, 1260 Nyon, Switzerland • edwards.com