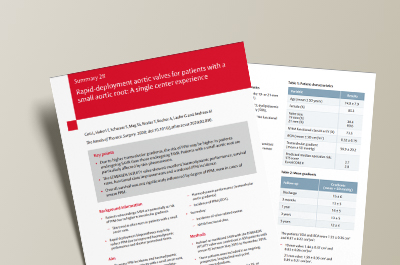 Suggested Posts for you
Rapid-deployment aortic valves for patients with a small aortic root: A single-center experience
Keywords: aortic stenosis; aortic valve replacement; patient–prosthesis […]
Rapid-deployment aortic valves for patients with a small aortic root: A single-center experience
Keywords: aortic stenosis; aortic valve replacement; patient–prosthesis mismatch; rapid-deployment aortic valves
Severe aortic stenosis in low- and intermediate-risk patients is currently treated by surgical aortic valve replacement (SAVR). However, SAVR can cause patient–prosthesis mismatch (PPM), a condition where a patient's body surface area is too big compared with the effective orifice area of the implant. This mismatch results in higher transvalvular pressure gradients and is associated with a higher risk of adverse outcomes. There is a potential risk of PPM in patients who undergo SAVR due to higher transvalvular pressure gradients, especially if they have a small aortic root.
Coti et al. studied patients with a small aortic root who underwent SAVR with the EDWARDS INTUITY valve. This single-centre cohort analysis provides useful insights by analysing haemodynamic parameters, survival rates, functional class improvements and PPM incidence.
Click on the link below to see the outcomes of the EDWARDS INTUITY valve transplant in at-risk patients.
Click here to access the full publication
Important safety information:
Use of the EDWARDS INTUITY Elite valve system may be associated with new or worsened conduction disturbances, which may require a permanent cardiac pacemaker implant (PPI). The rate of PPI for the EDWARDS INTUITY Elite valve is within the range reported in the literature for various rapid deployment valves, but higher than that reported for surgical aortic valves. Physicians should assess the benefits and risks of the EDWARDS INTUITY Elite valve prior to implantation. See instructions for use for additional information.
For professional use. For a listing of indications, contraindications, precautions, warnings, and potential adverse events, please refer to the Instructions for Use (consult eifu.edwards.com where applicable).
Edwards devices placed on the European market meeting the essential requirements referred to in Article 3 of the Medical Device Directive 93/42/EEC bear the CE marking of conformity.
Edwards, Edwards Lifesciences, the stylized E logo, Carpentier-Edwards, EDWARDS INTUITY, and EDWARDS INTUITY Elite are trademarks or service marks of Edwards Lifesciences Corporation or its affiliates. All other trademarks are the property of their respective owners.
© 2020 Edwards Lifesciences Corporation. All rights reserved.
Edwards Lifesciences • Route de l'Etraz 70, 1260 Nyon, Switzerland • edwards.com