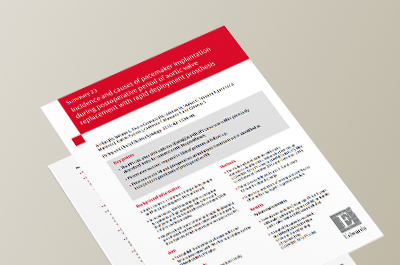 Suggested Posts for you
Pacemaker implantation after aortic valve replacement with a rapid deployment prosthesis
Keywords: aortic bioprostheses; aortic valve replacement; permanent […]
Pacemaker implantation after aortic valve replacement with a rapid deployment prosthesis
Keywords: aortic bioprostheses; aortic valve replacement; permanent pacemaker implantation; rapid deployment prosthesis
In recent years, rapid deployment and transcatheter valves have reduced the invasiveness of aortic valve replacement. However, both of these types of prosthesis have been associated with conduction disturbances and subsequent postoperative permanent pacemaker implantation (PPI).
This summary highlights key results from a single-centre, observational study assessing the factors associated with PPI following the implantation of EDWARDS INTUITY or EDWARDS INTUITY Elite valves. Arribas et al. analysed data for 71 patients followed up for an average of 33 months, and assessed the incidence, reasons for and impact of PPI.
Download below to keep up to date with the latest research in aortic valve replacement.
Click here to access the full publication
Important safety information:
Use of the EDWARDS INTUITY Elite valve system may be associated with new or worsened conduction disturbances, which may require a permanent cardiac pacemaker implant (PPI). The rate of PPI for the EDWARDS INTUITY Elite valve is within the range reported in the literature for various rapid deployment valves, but higher than that reported for surgical aortic valves. Physicians should assess the benefits and risks of the EDWARDS INTUITY Elite valve prior to implantation. See Instructions for Use for additional information.
For professional use. For a listing of indications, contraindications, precautions, warnings, and potential adverse events, please refer to the Instructions for Use (consult eifu.edwards.com where applicable).
Edwards devices placed on the European market meet the requirements for bearing the CE marking of conformity.
Edwards, Edwards Lifesciences, the stylized E logo, EDWARDS INTUITY, and EDWARDS INTUITY Elite are trademarks of Edwards Lifesciences Corporation or its affiliates. All other trademarks or service marks are the property of their respective owners.