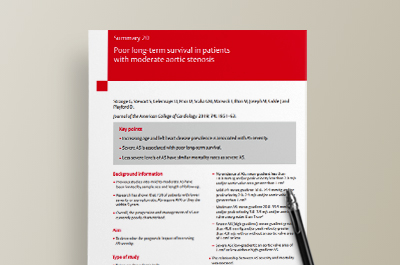 Suggested Posts for you
Poor long-term survival in patients with moderate aortic stenosis
Keywords: aortic stenosis; severity; mortality The association […]
Poor long-term survival in patients with moderate aortic stenosis
Keywords: aortic stenosis; severity; mortality
The association between severe aortic stenosis (AS) and poor survival is well known. While some studies have indicated that this association also applies to less severe AS, the research has been limited by sample size and length of follow-up. Overall, the progression and management of AS is poorly characterised.
This summary presents key data from a retrospective cohort study assessing the prognostic impact of increasing AS severity. Strange et al. assessed data from 241,303 patients obtained from the National Echocardiographic Database of Australia registry. Short- and long-term mortality rates (1 and 5 years) were examined according to AS severity.
Download below to keep up to date with the latest research in AS.
Click here to access the full publication
Edwards, Edwards Lifesciences, and the stylized E logo are trademarks of Edwards Lifesciences Corporation. All other trademarks or service marks are property of their respective owners.