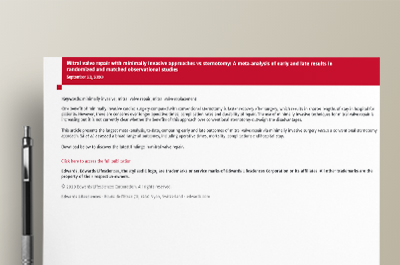 Suggested Posts for you
Mitral valve repair with minimally invasive approaches vs sternotomy: A meta‐analysis of early and late results in randomized and matched observational studies
Keywords: minimally invasive; mitral valve repair; mitral […]
Mitral valve repair with minimally invasive approaches vs sternotomy: A meta‐analysis of early and late results in randomized and matched observational studies
Keywords: minimally invasive; mitral valve repair; mitral valve replacement
One benefit of minimally invasive cardiac surgery compared with conventional sternotomy is faster recovery after surgery, which results in shorter lengths of stay in hospital for patients. However, there are concerns over longer operative times, complication rates and durability of repair. The use of minimally invasive techniques for mitral valve repair is increasing but it is not currently clear whether the benefits of this approach over conventional sternotomy outweigh the disadvantages.
This article presents the largest meta-analysis, to date, comparing early and late outcomes of mitral valve repair via minimally invasive surgery versus a conventional sternotomy approach. Sá et al. assessed a broad range of outcomes, including operative times, mortality, complications and hospital stay.
Download below to discover the latest findings in mitral valve repair.
Click here to access the full publication
Edwards, Edwards Lifesciences, the stylized E logo, are trademarks or service marks of Edwards Lifesciences Corporation or its affiliates. All other trademarks are the property of their respective owners.
© 2020 Edwards Lifesciences Corporation. All rights reserved.
Edwards Lifesciences • Route de l'Etraz 70, 1260 Nyon, Switzerland • edwards.com