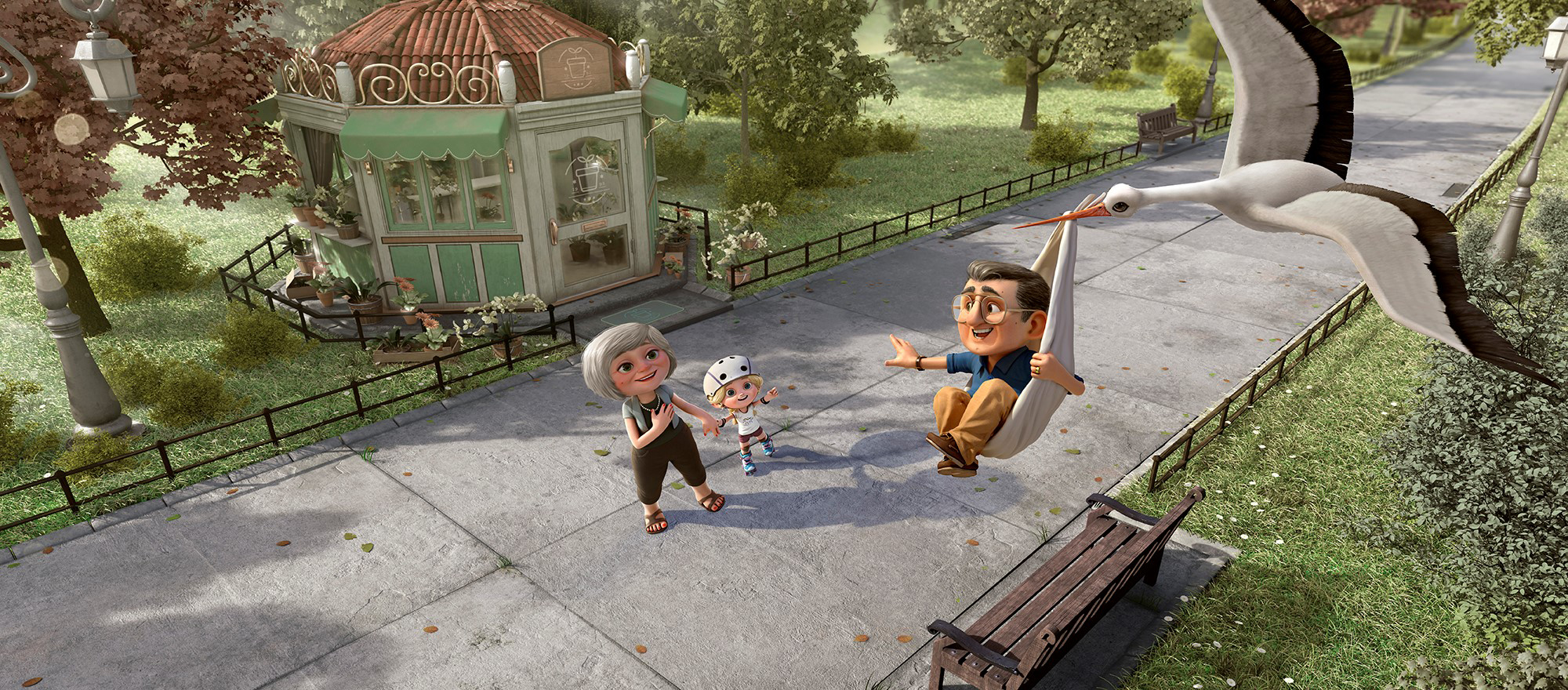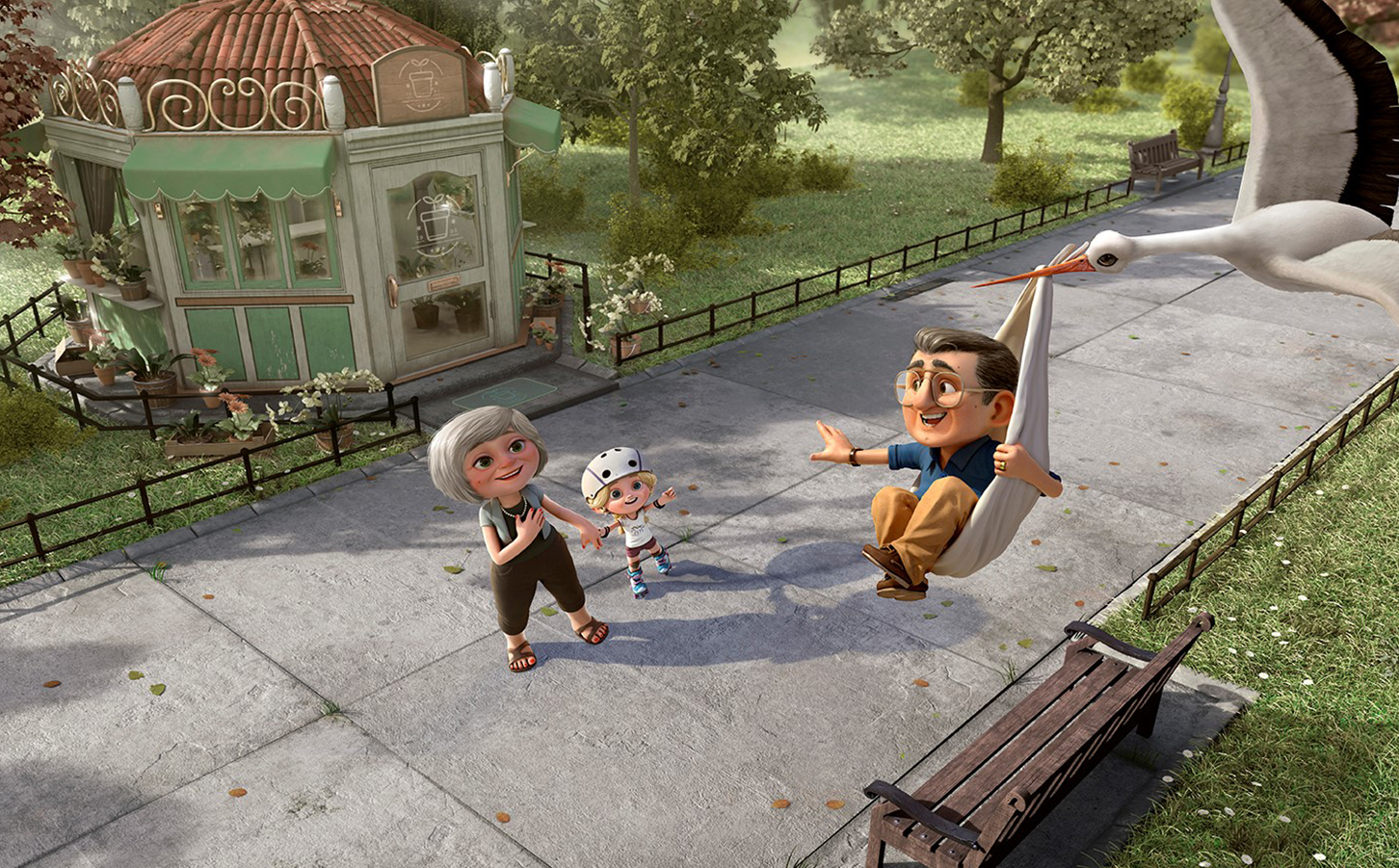 Help your AVR patients feel reborn
The INSPIRIS RESILIA aortic valve – a class of resilient tissue valves
Although mechanical valves offer extended durability,1 patients are increasingly turning towards tissue valves.2-4 This trend might reflect the patients' unwillingness to accept the compromises of lifelong anticoagulation as required by mechanical valves.2,4
However, younger patients have a higher risk of tissue valve deterioration and, as life-expectancy is increasing,3 patient preference and the presumed valve durability to life-expectancy ratio are important factors to consider when deciding on which valve replacement to use.5
With this in mind, Edwards Lifesciences developed the INSPIRIS RESILIA valve.
The INSPIRIS RESILIA valve is the latest innovation in Edwards' range of surgical aortic bioprostheses, bringing together: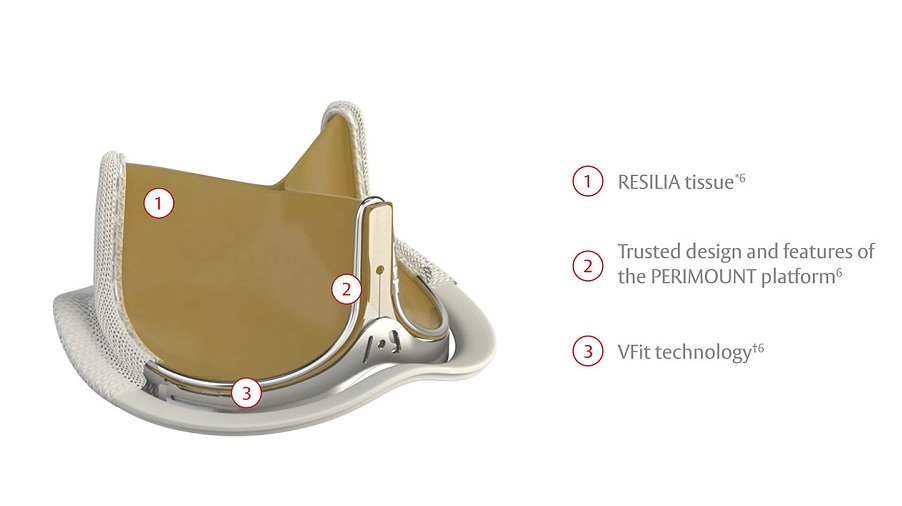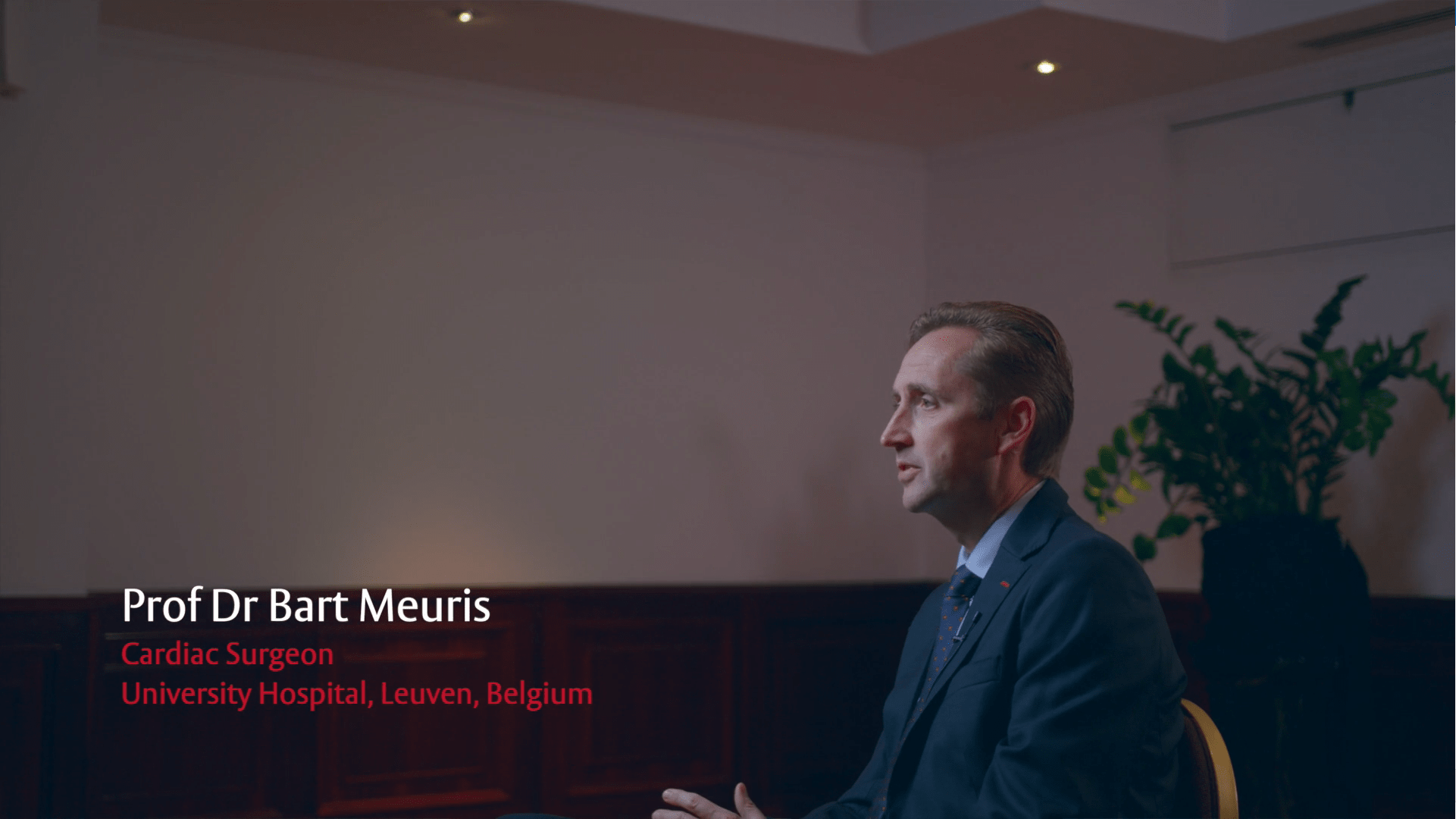 What do you think are the most interesting trends in the field of aortic valve replacement today?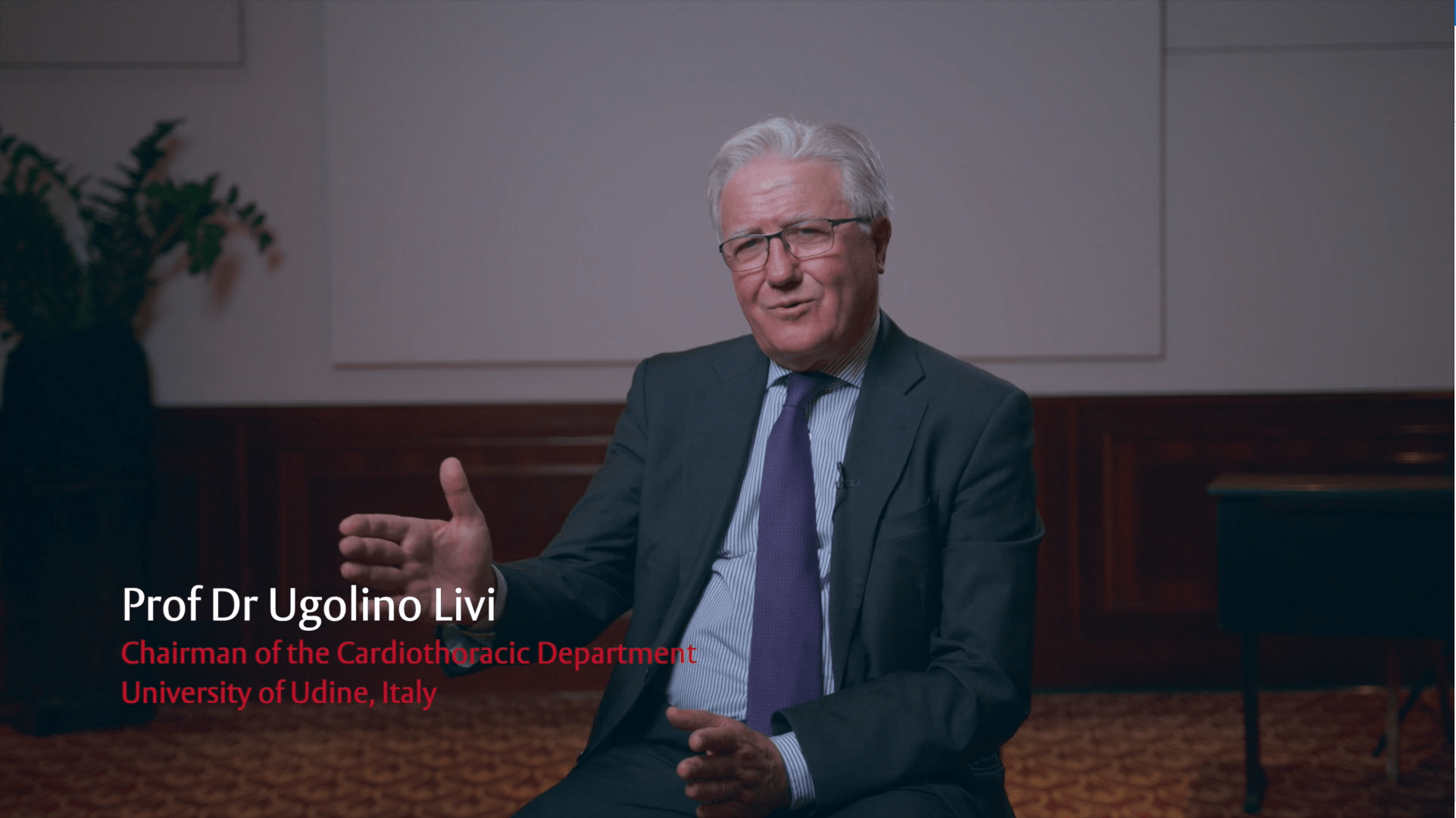 What are patients most concerned about when it comes to aortic valve replacement?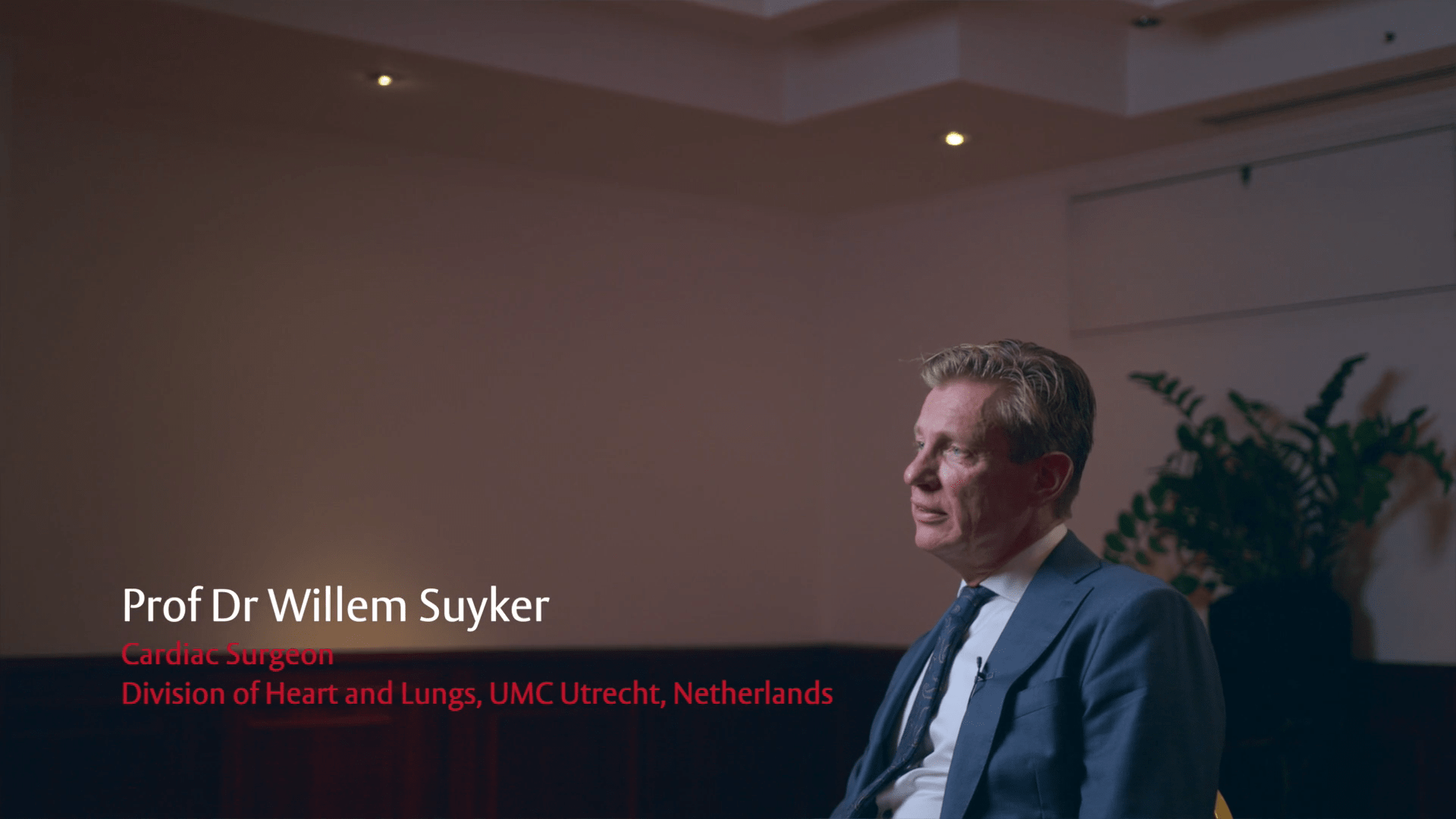 What do you find to be the most interesting features/benefits of the INSPIRIS RESILIA valve?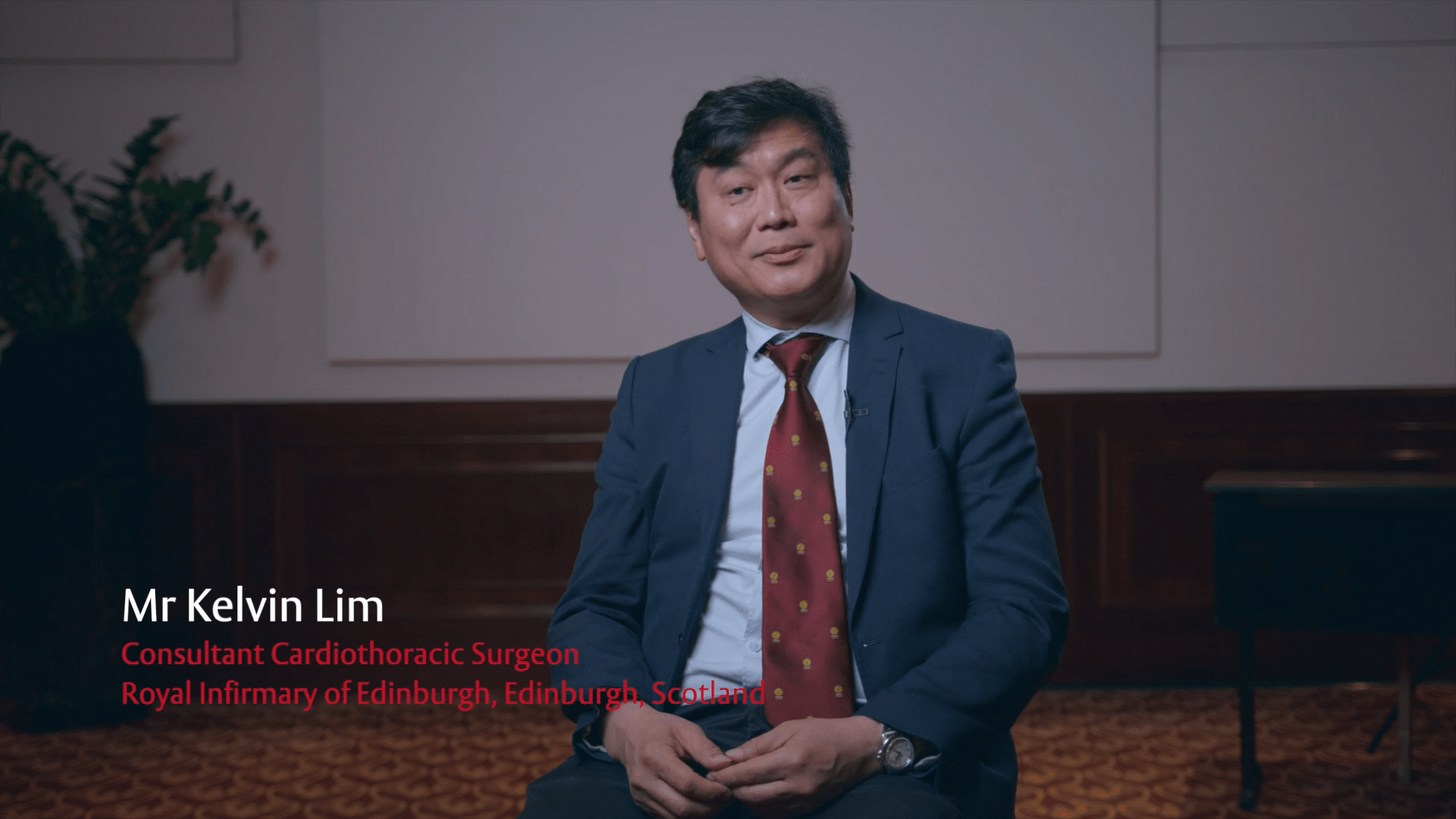 What makes you passionate about being a surgeon?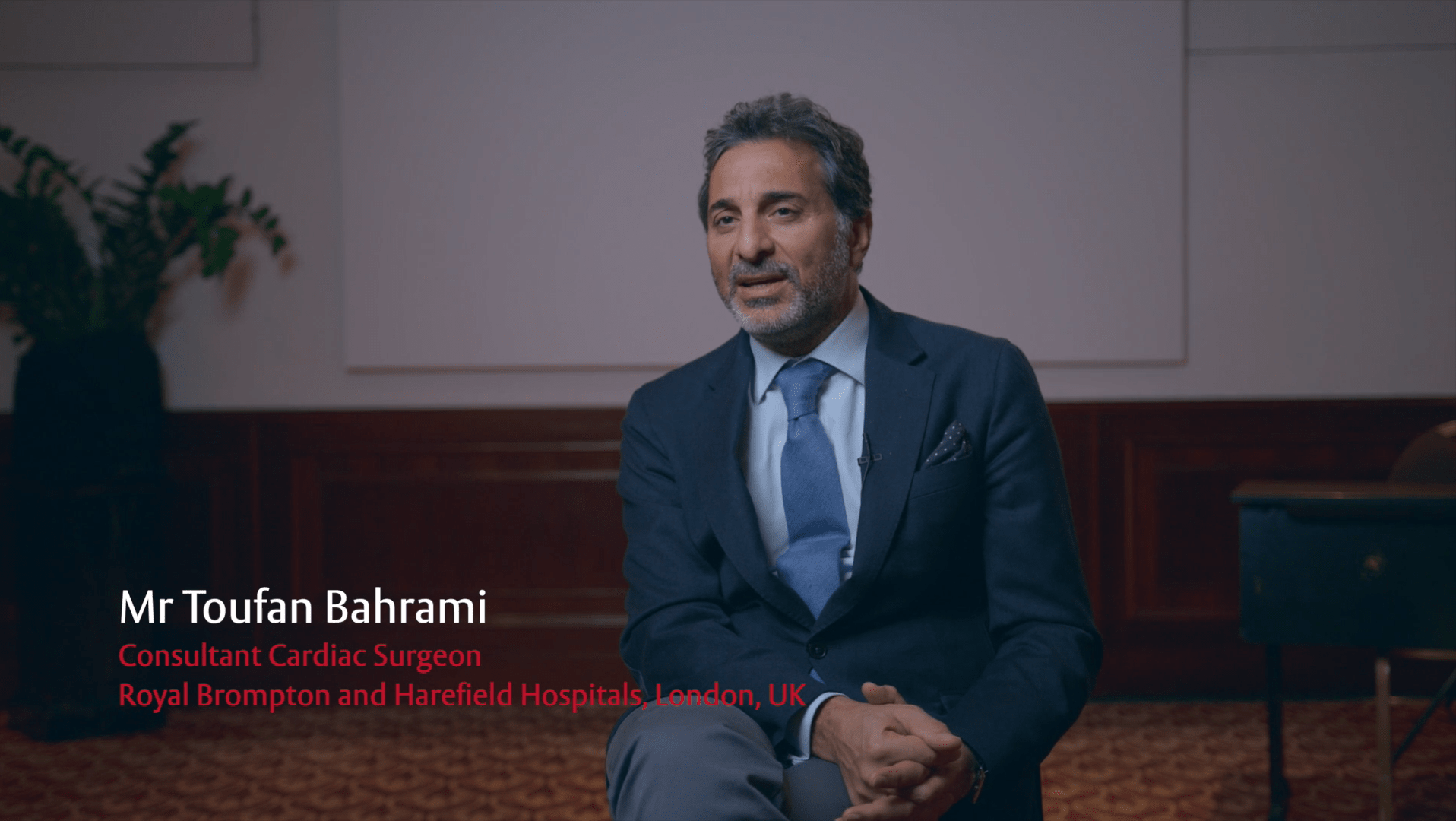 Describe your 1st INSPIRIS RESILIA implant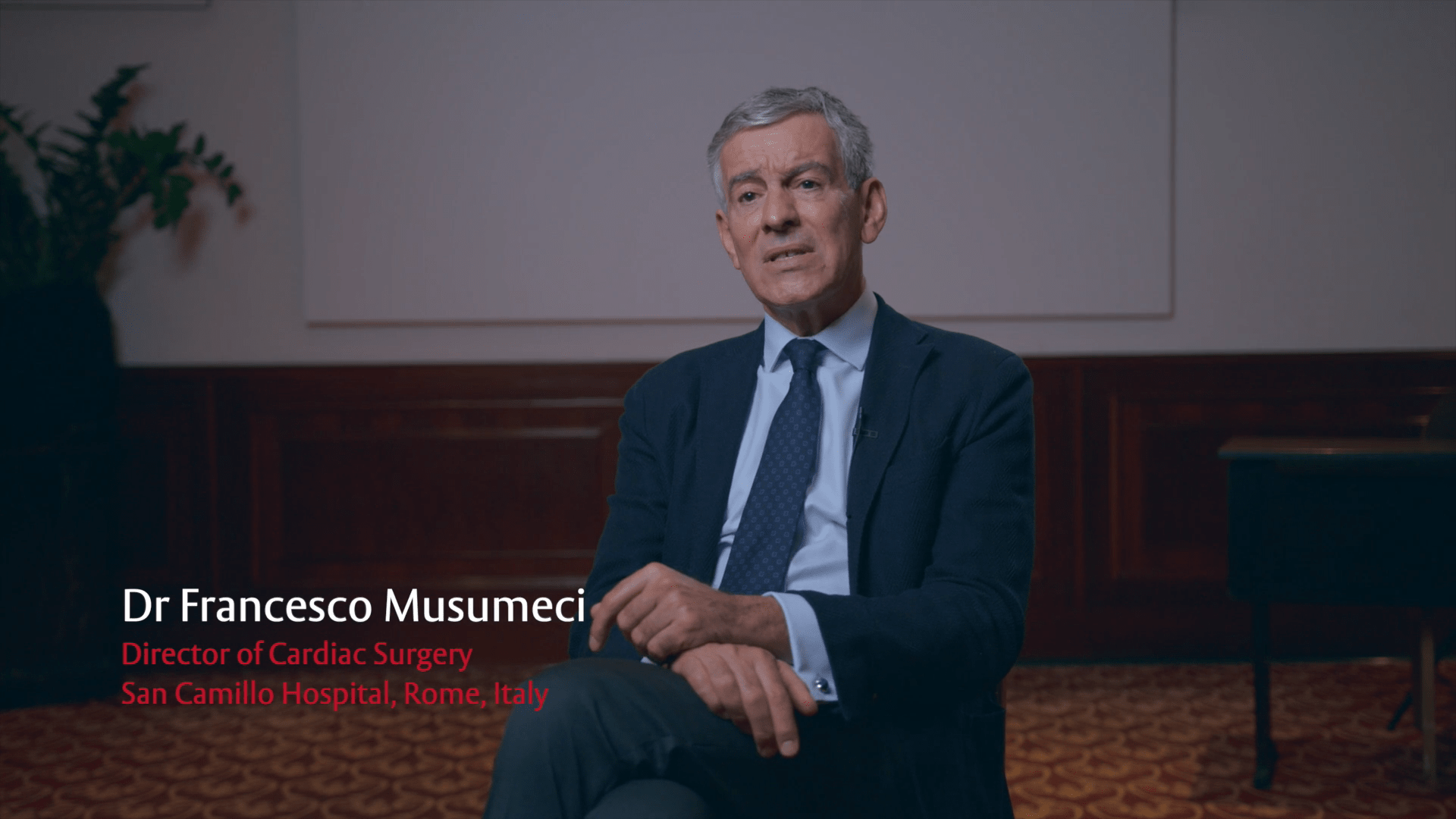 In which types of patients is the INSPIRIS RESILIA valve most appropriate?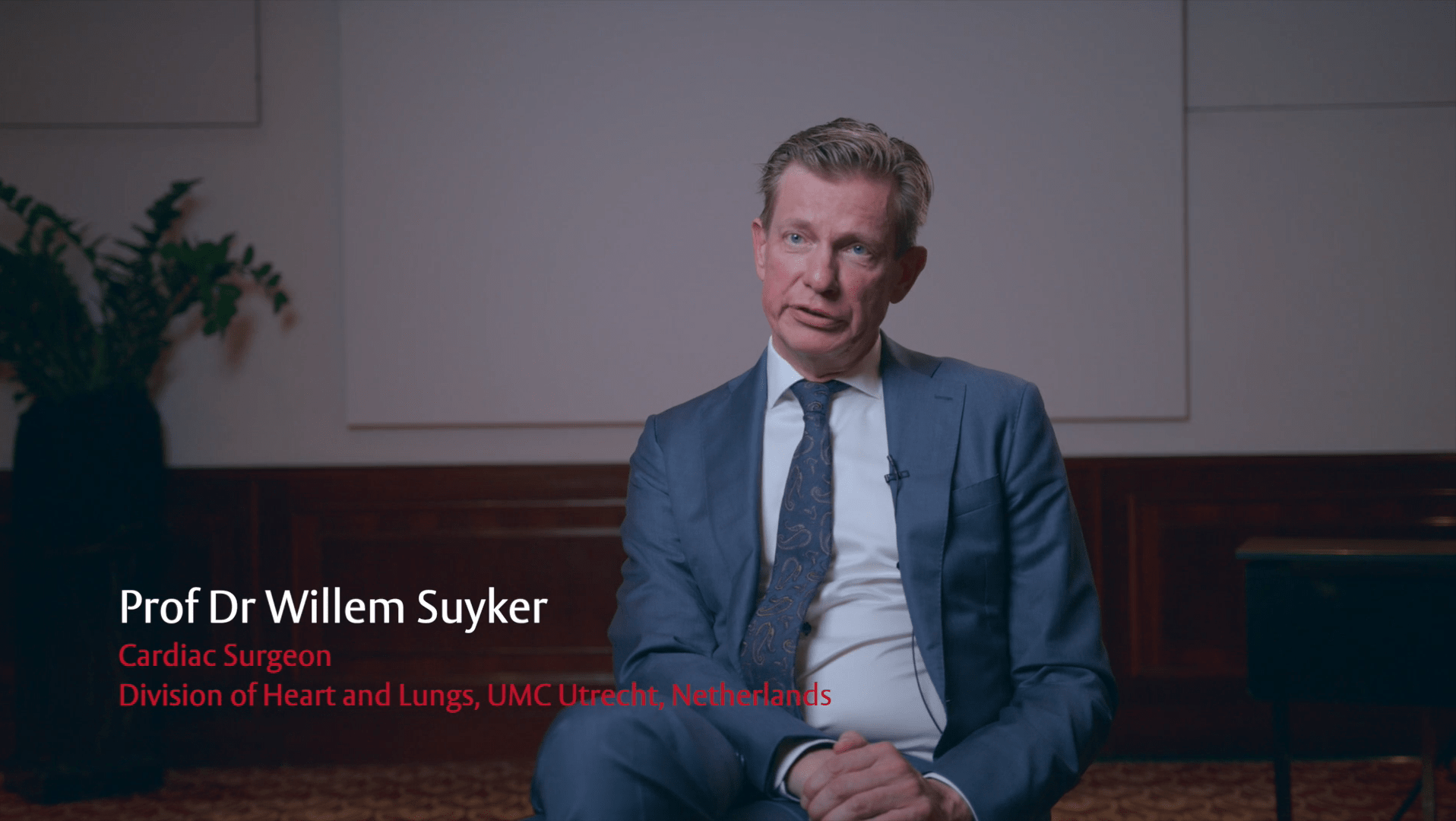 In the absence of long-term evidence, how do you make the decision to adopt new technology?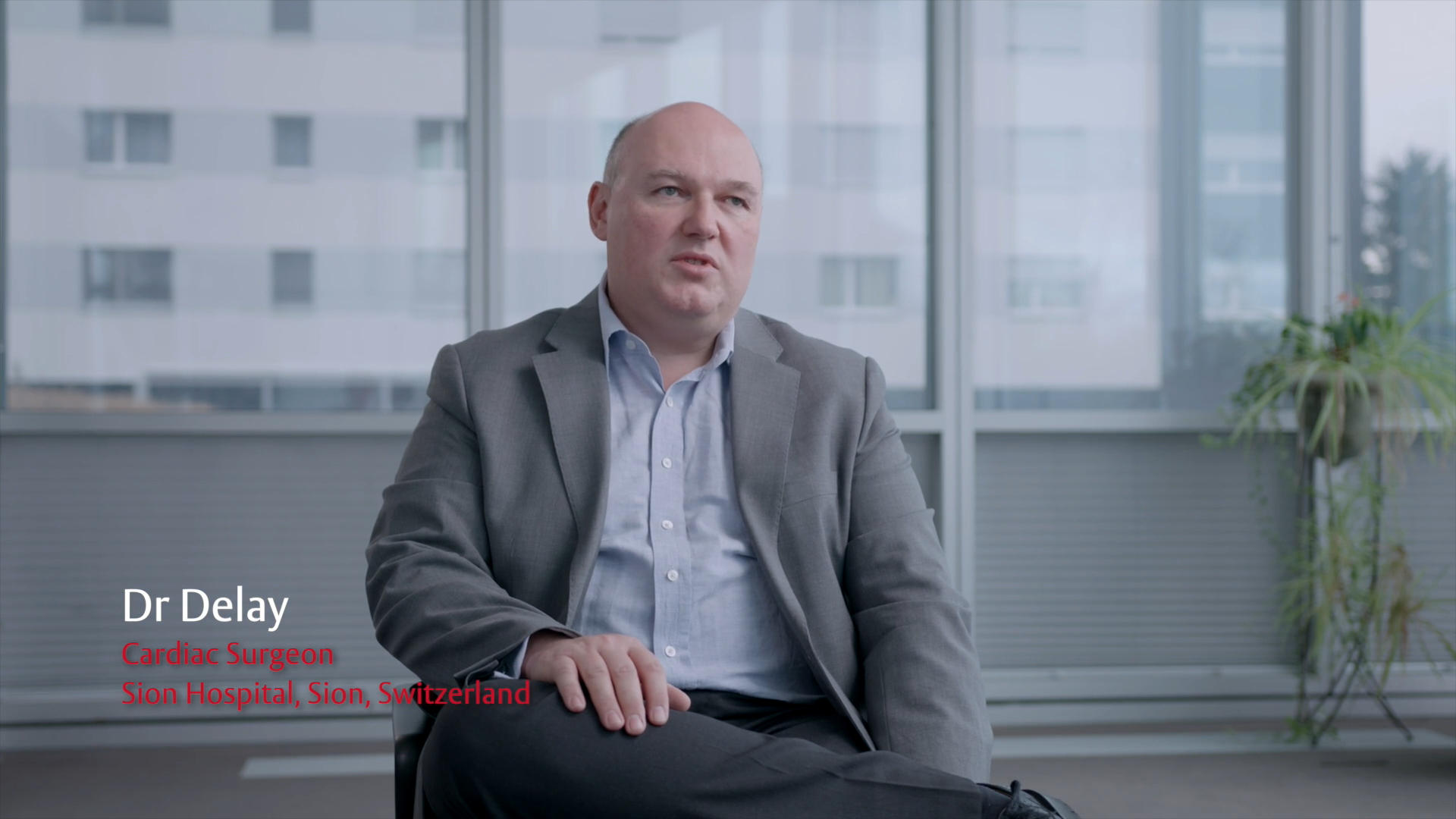 How far ahead do you plan when you make today's treatment decisions?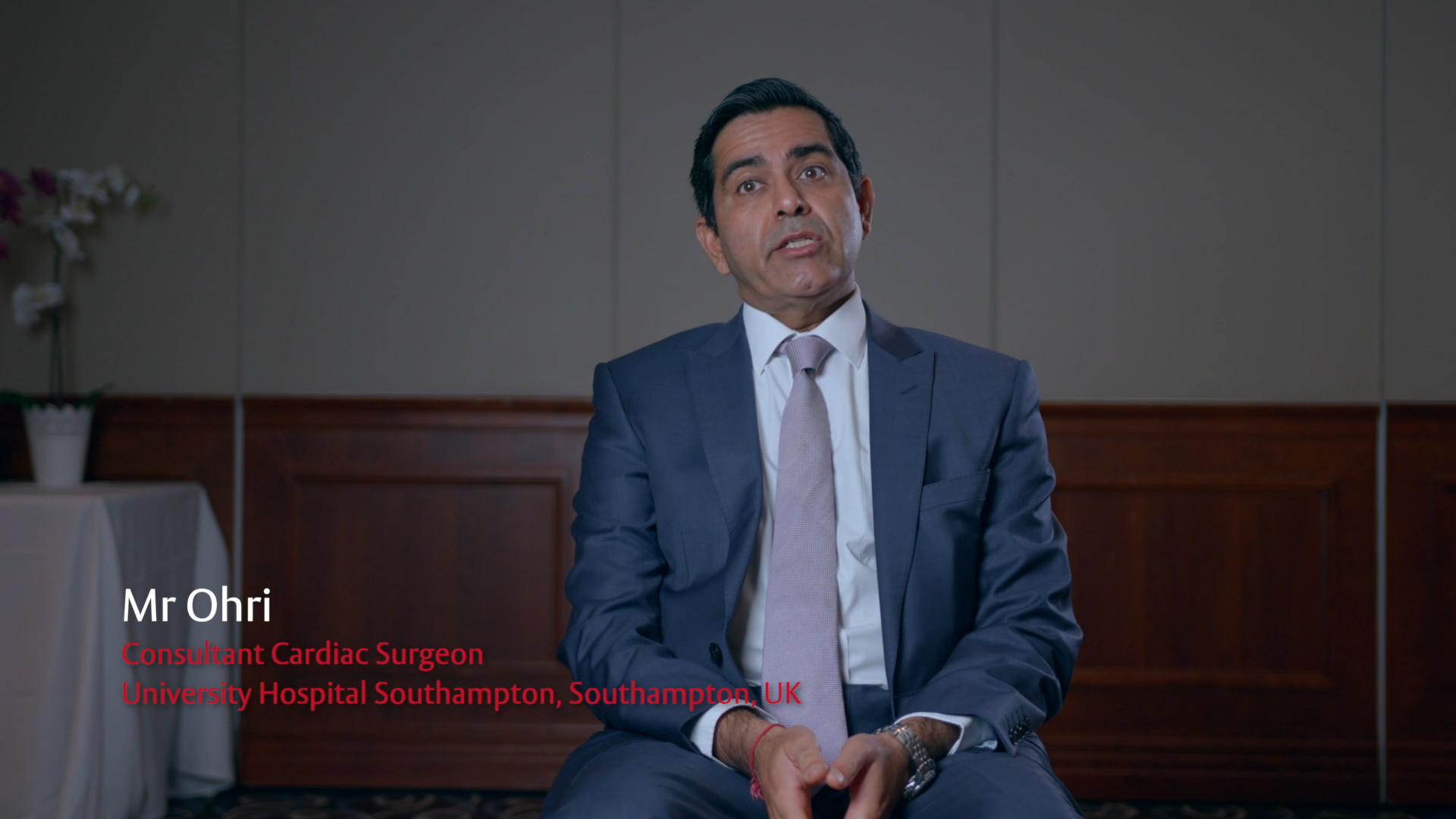 What are the risks of delaying surgical intervention?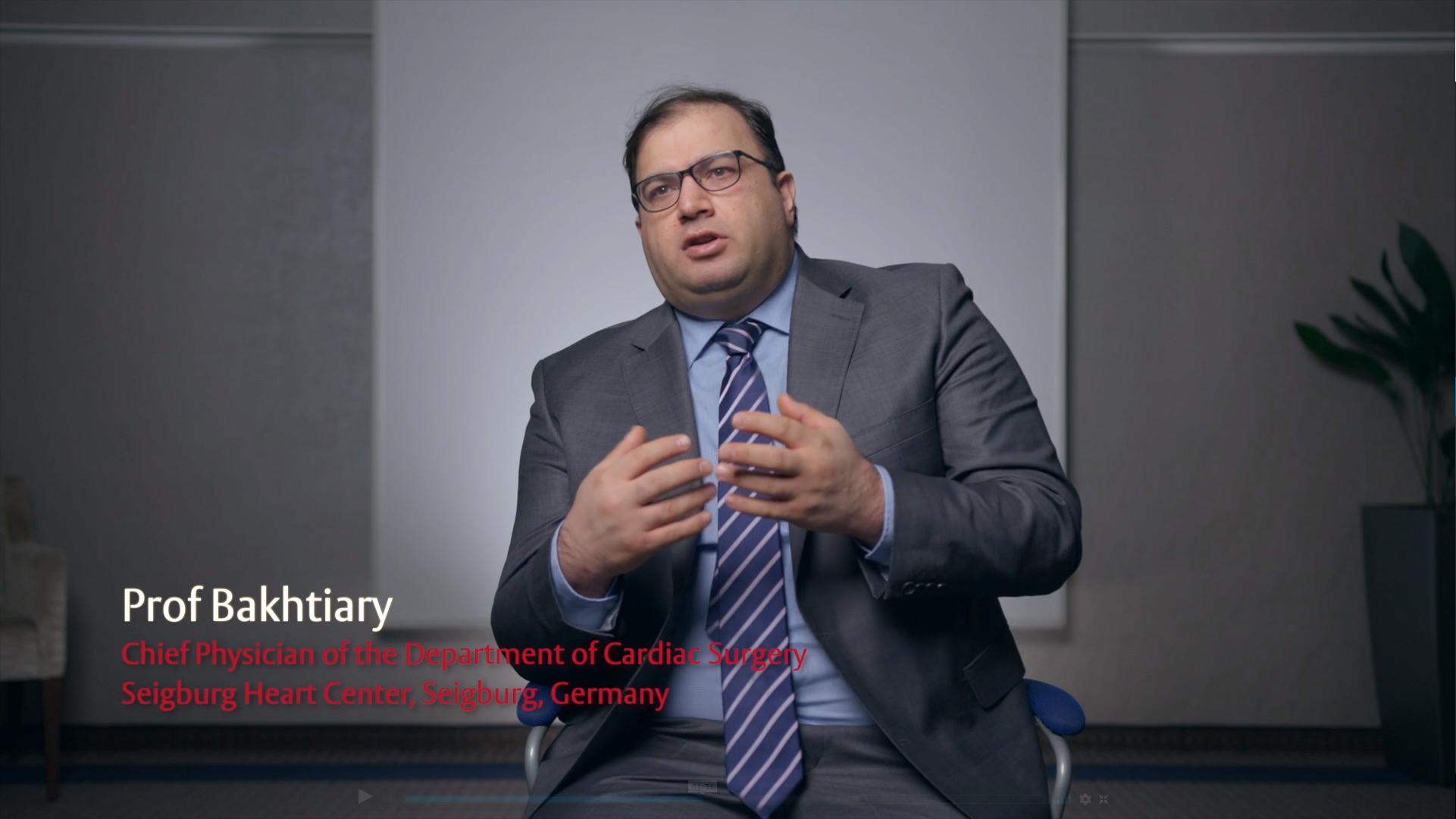 What does success look like to you and/or the patient in terms of aortic valve replacement?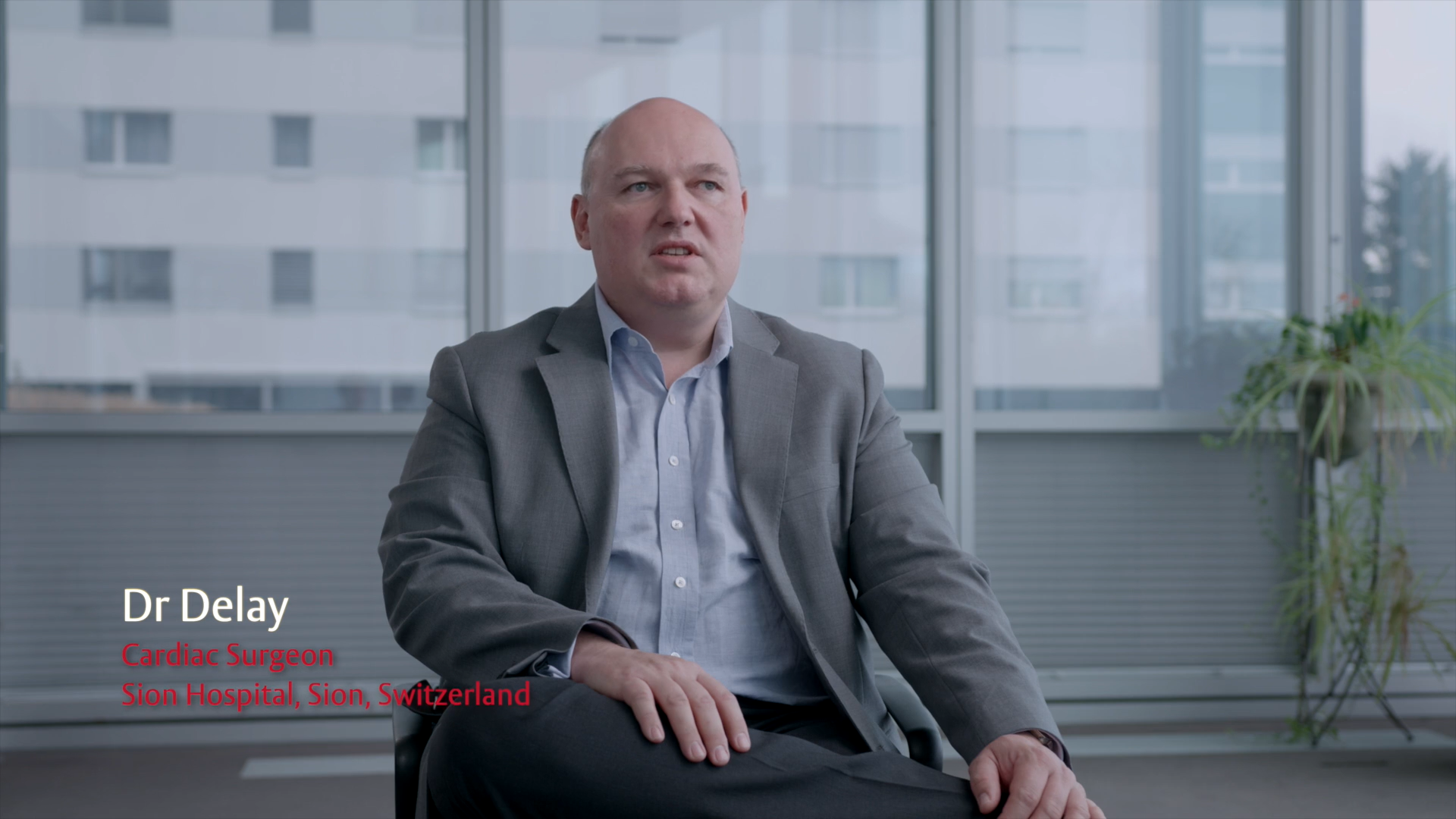 Describe your first INSPIRIS RESILIA implant – Part 2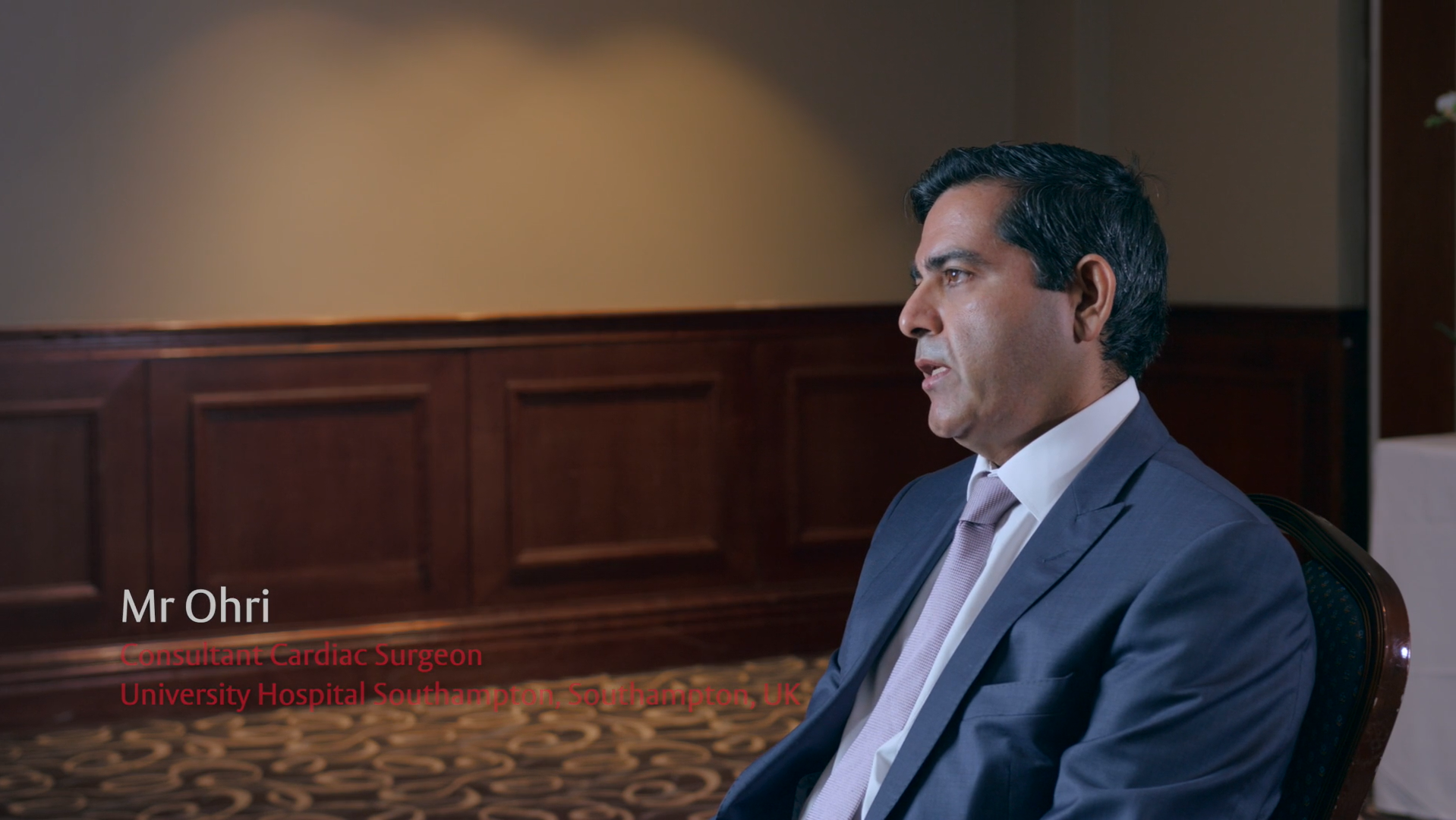 What patient profile would best suit the use of an INSPIRIS RESILIA aortic valve?
The messages presented by non-Edwards affiliated speakers within any of these videos are based on individual opinions and are not directly affiliated with Edwards.
Mechanical vs. tissue valves
The ESC/EACTS guidelines give a Class IIa (level of evidence C) recommendation to the use of mechanical valves for aortic valve replacement (AVR) in patients aged <60 years and tissue valves for those aged >65 years. However, the guidelines are less clear for patients between these ages.5
Structural valve deterioration (SVD) is rare in mechanical valves though other factors such as valve thrombosis, bleeding, pannus growth and endocarditis may lead to reoperation. Mechanical valves are seen to have increased durability with reduced reoperation rates compared to tissue valves. Nevertheless, because they carry a high risk of thrombosis and bleeding, lifelong anticoagulation therapy as well as INR monitoring are required3 – a substantial lifestyle modification.4
Tissue valves do not require lifelong anticoagulation therapy3-5 but have decreased durability compared to mechanical valves. Their main risk is reoperation for SVD due to calcification.3
Similar survival rates were observed for mechanical and tissue valves, in a retrospective analysis study by Chiang et al.‡7
When choosing the right valve for each patient, it is important that discussions include the risks and benefits associated with each valve type. Healthcare professionals and their patients should also consider:5
Patient preference – guidelines grant a Class I (level of evidence C) recommendation to decisions that are aligned with the desire of the informed patient
Lifestyle
Comorbidities
Impact of anticoagulation medication and INR monitoring
Presumed valve durability to life-expectancy ratio
Relative risks of major morbidity

Reoperation
Major bleeding events
Latest innovation in tissue valves
With the use of tissue valves significantly increasing, life-expectancy continuously improving and tissue valve SVD being accelerated in younger patients, there is a demand for tissue valves with longer durability.3
INSPIRIS RESILIA is built on trusted PERIMOUNT platform, the most widely used aortic valve in the world.
Through technological and design innovations, the INSPIRIS RESILIA valve, the latest generation of Edwards tissue valves, has been designed for patients with active lives to provide:
Improved anti-calcification properties*8,9
Potential for future valve-in-valve (ViV) procedures†6
Initial intermediate-term data is available on RESILIA tissue.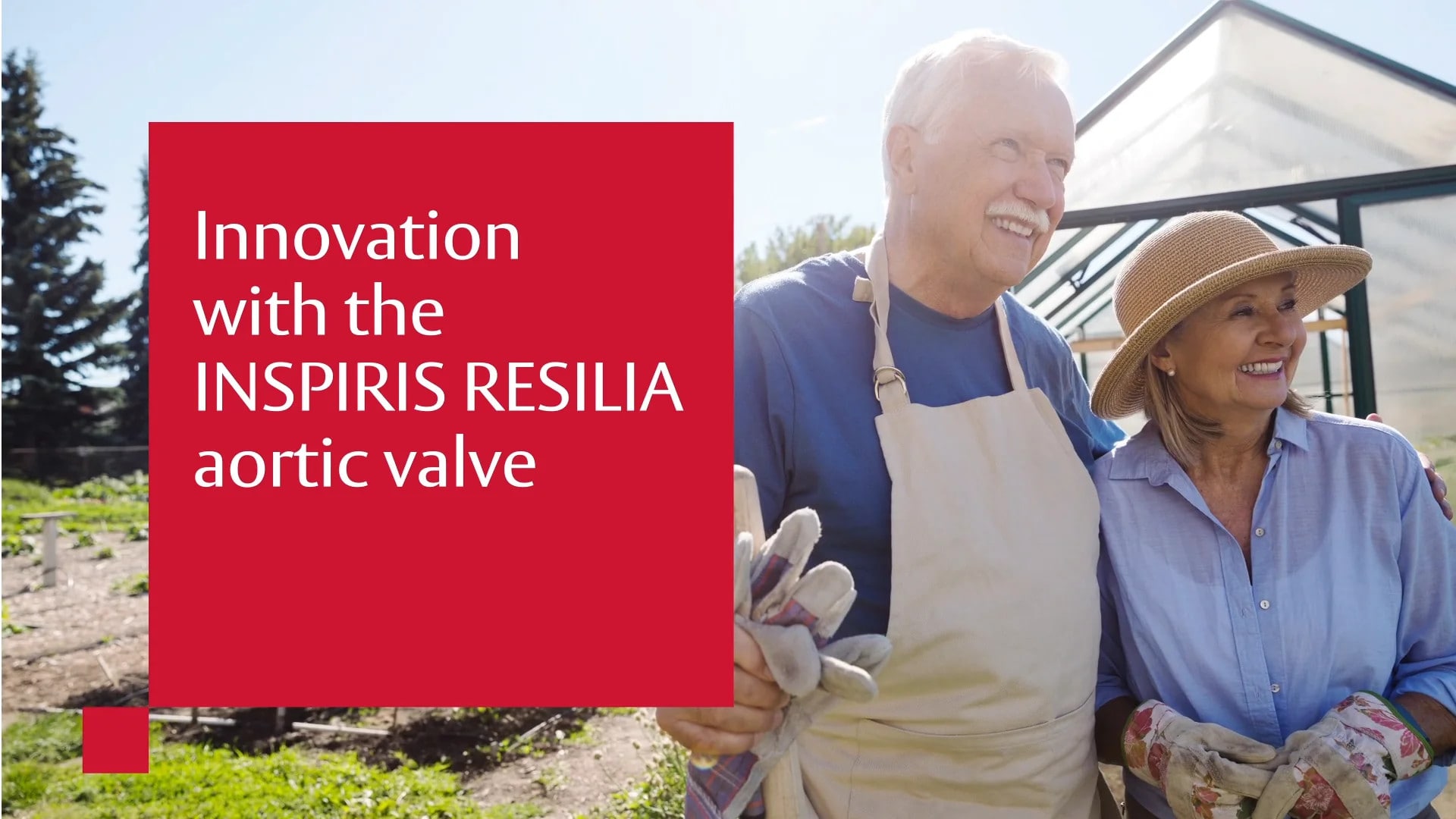 Discover the innovation behind the INSPIRIS RESILIA valve
What is RESILIA tissue?
RESILIA tissue is bovine pericardium that has been transformed by stable capping and glycerolisation. This novel technology permanently blocks free aldehyde groups within the tissue,8 which are known to lead to calcification and SVD.3,8 This also eliminates the need for glutaraldehyde preservation, enabling dry storage with no need for rinsing prior to use.8
RESILIA tissue in pre-clinical testing
The enhanced integrity of RESILIA tissue was proven in a large, randomised, examiner-blinded, controlled trial of juvenile sheep in the mitral position. This pre-clinical model is currently the best-known to assess tissue valve calcification because the use of juvenile sheep (all less than 6 months old) reflects the accelerated calcification often seen in younger humans. This long-term 8 month study was longer than the minimum (5 months) required by the US FDA by more than 50%.8

Adapted from Flameng et al. 2015.
Over 8 months, compared with the standard PERIMOUNT valve, the PERIMOUNT valve incorporating RESILIA tissue demonstrated:8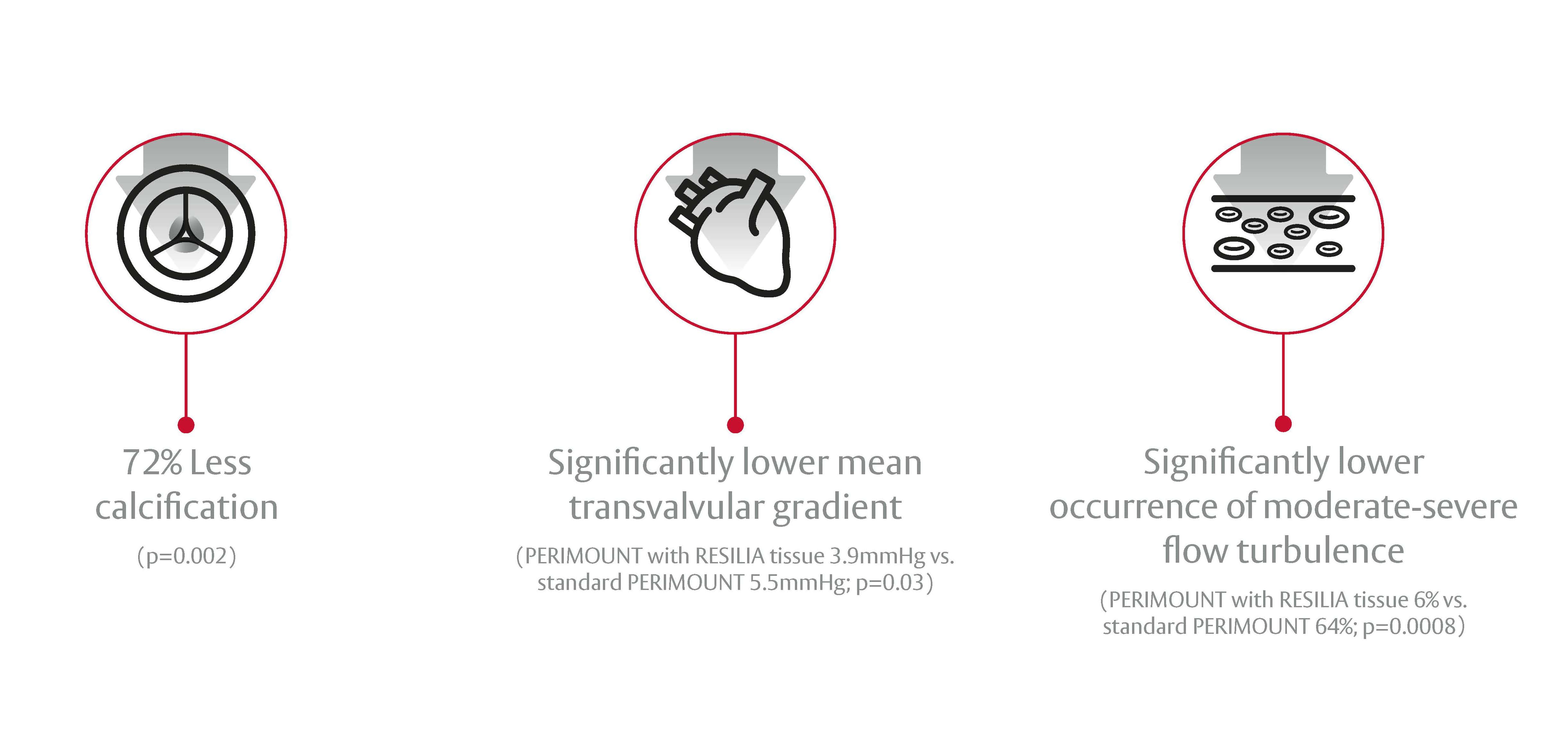 RESILIA tissue in the COMMENCE trial
Prospective, multinational, single-arm, FDA Investigational Device Exemption Trial10,11
In the COMMENCE trial, 689 patients underwent clinically indicated surgical AVR with the Carpentier-Edwards PERIMOUNT Magna Ease aortic valve with RESILIA tissue (Model 11000A).10 At the 2-year (n=689), 4-year (n=469) and 5-year (n=471) follow-ups,9,10,11 RESILIA tissue demonstrated: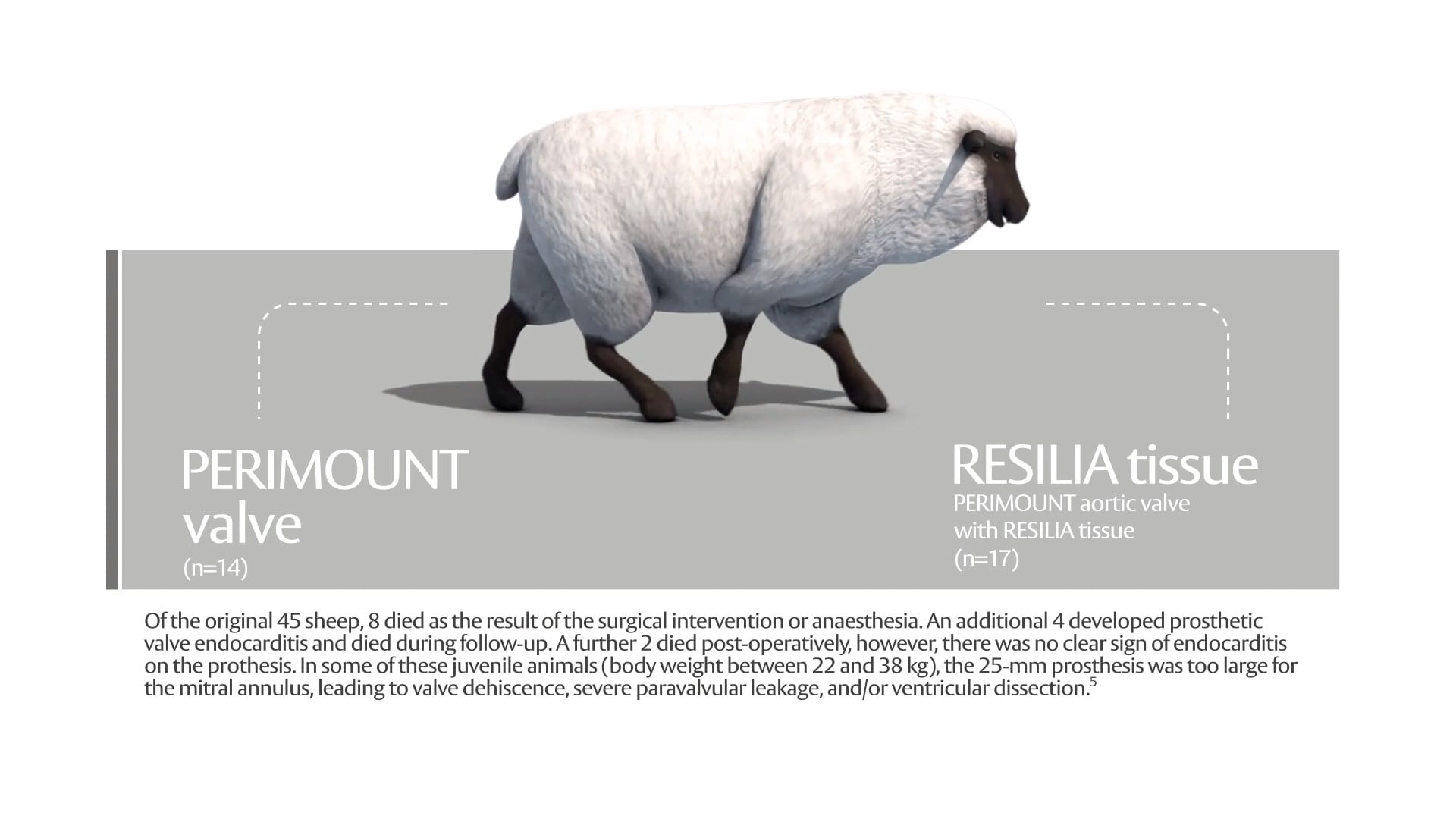 Find out more about RESILIA tissue pre-clinical testing and the COMMENCE trial

Visit Edwards Masters
For more information related to the INSPIRIS RESILIA valve studies visit Edwards Masters.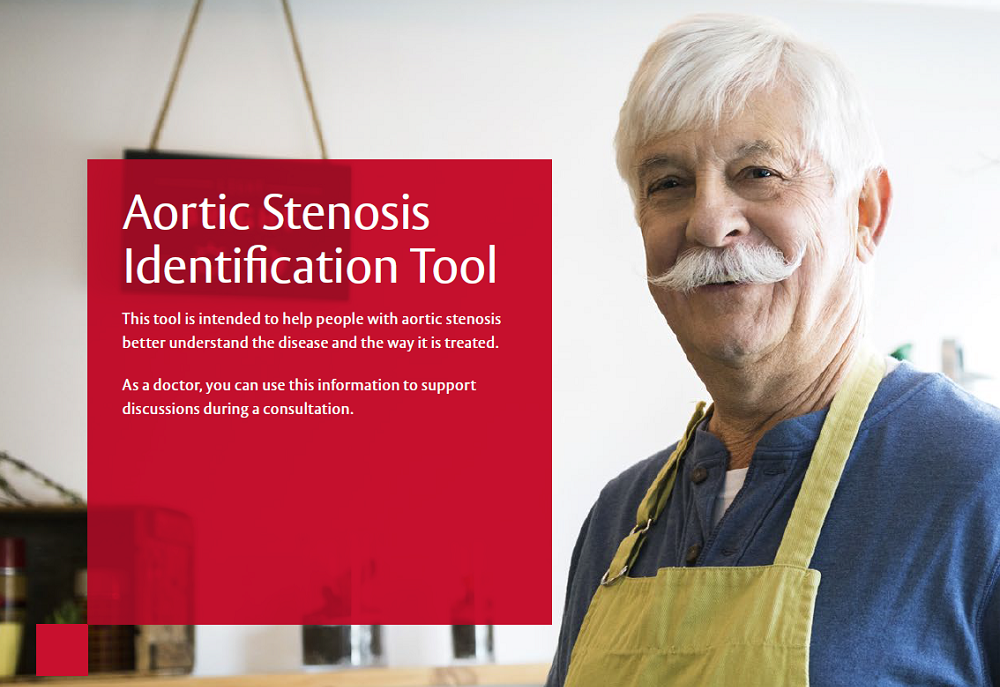 Click here to download the Aortic Stenosis Identification Tool.
This tool lays out key steps in the treatment of aortic stenosis. The first part is aimed at patients and can be used as a visual guide to support consultations. The second part contains in-depth information that you might find helpful to support more detailed discussions.
×
Download the Aortic Stenosis Identification Tool
Please take a moment to enter your contact details in order to download the Aortic Stenosis Identification Tool. Fields with asterisk are required.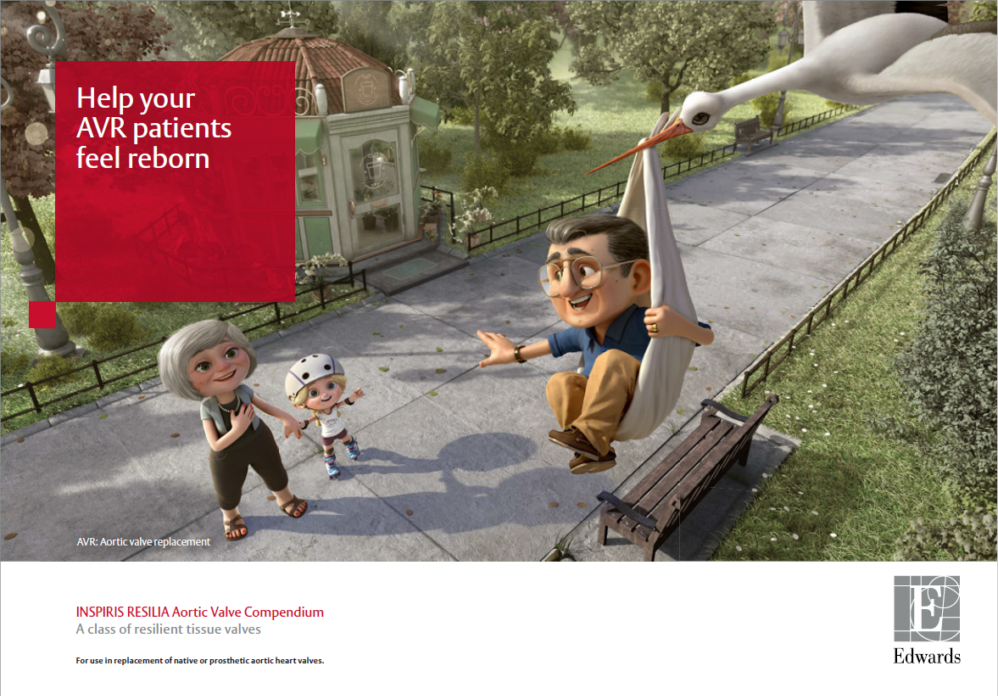 Click here to download the INSPIRIS RESILIA Data Compendium.
This healthcare professional focused booklet takes an in-depth look at the impact of AVR, and explores the latest clinical studies involving the INSPIRIS RESILIA valve and RESILIA tissue.
×
Download the INSPIRIS RESILIA Data Compendium
Please take a moment to enter your contact details in order to download the INSPIRIS RESILIA Data Compendium. Fields with asterisk are required.
The INSPIRIS RESILIA valve builds on the trusted PERIMOUNT platform…6
…and projects it into the future with VFit technology†6
The INSPIRIS RESILIA valve builds on the trusted PERIMOUNT platform…6
The INSPIRIS RESILIA valve is built upon the Magna Ease valve and is the latest model in the Carpentier-Edwards PERIMOUNT valve portfolio,6 the most widely used aortic valves in the world.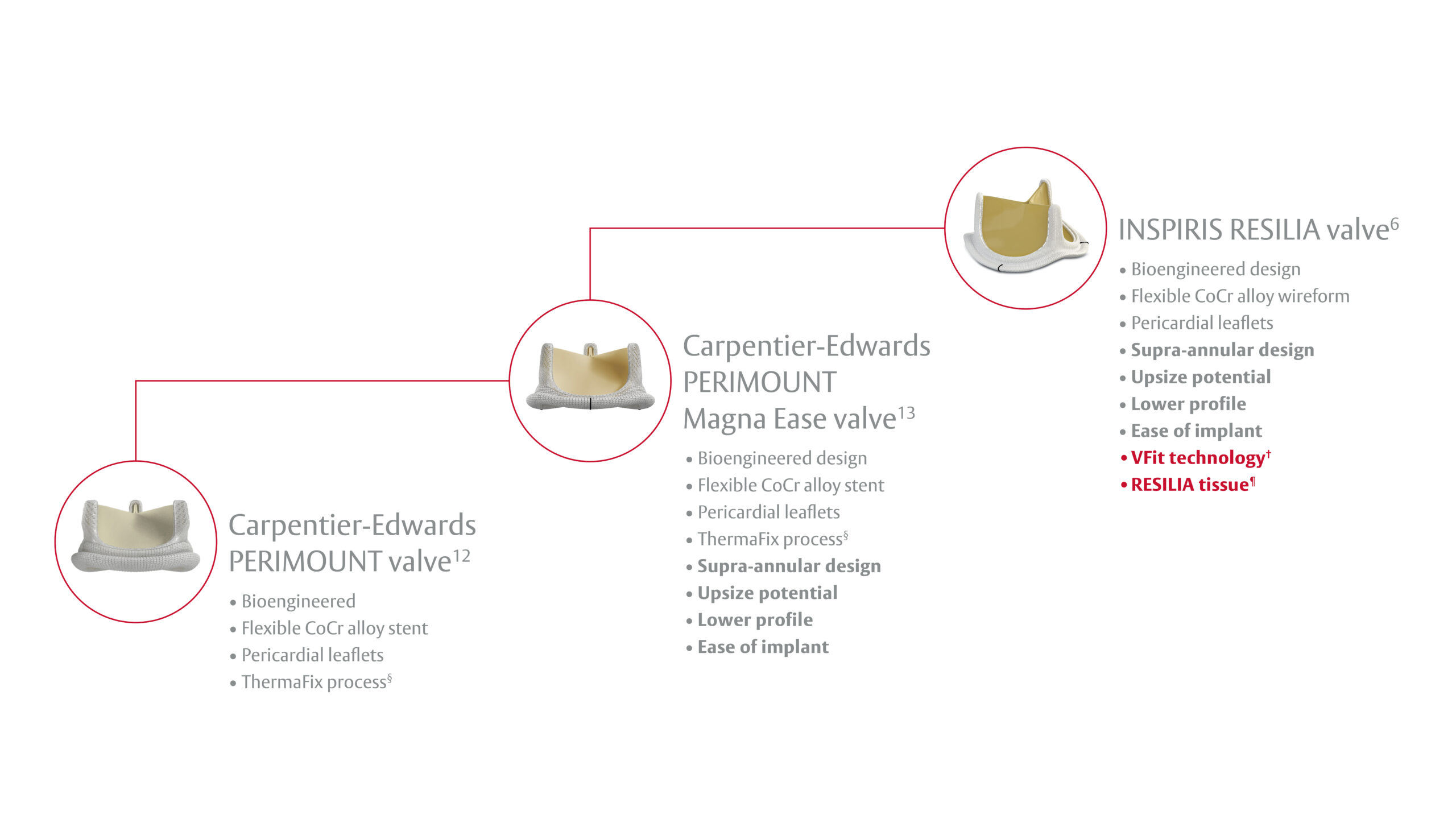 …and projects it into the future with VFit technology†6
VFit technology incorporates two novel features designed for potential future ViV procedures:†6


to receive tailored news updates relevant to you and your field.
KIFM London King's College
129 Coldharbour Lane
Receipt & Distribution (KCH)
SE5 9NY London
Wellington Hospital
Wellington Place, St John's Wood,
Materials Department
NW8 9LE London
University College Hospital
235 Euston Rd
Fitzrovia, London NW1 2BU
Beacon Hospital
379 Croydon Rd
Beckenham BR3 3QL
Glenfield Hospital
Groby Rd,
Leicester LE3 9QP
Nottingham City Hospital
Hucknall Rd
Nottingham NG5
Harefield Hospital
Hill End Rd, Harefield
Uxbridge UB9 6JH
Harley Street Clinic
35 Weymouth St
Marylebone, London W1G 8BJ
London Bridge
London Bridge
27 Tooley St
London SE1 2PR
Royal Brompton
Sydney St
Chelsea, London SW3 6NP
St Georges
Blackshaw Rd
London SW17 0QT
St Thomas Hospital Nhs Trust
Westminster Bridge Rd
Lambeth, London SE1 7EH
Freeman Newcastle
Freeman Rd
High Heaton, Newcastle upon Tyne NE7 7DN
Blackpool Victoria Hospital
Whinney Heys Rd
Blackpool FY3 8NR
Liverpool Heart & Chest Hospital
Thomas Dr, Liverpool L14 3PE
London Independent Hos. 1
1 Beaumont Square, Stepney Green
3rd Floor Theatres, London E1 4NL
Manchester Mri
Oxford Rd
Manchester M13 9WL
Belfast Royal Victoria
274 Grosvenor Rd
Belfast BT12 6BA
Golden Jubilee National Hospital
Agamemnon St
Clydebank G81 4DY
Edinburgh Royal Infirmary
51 Little France Cres
Edinburgh EH16 4SA
John Radcliffe Hospital
Headley Way
Headington, Oxford OX3 9DU
Royal Sussex
Barry Building, Eastern Rd
Brighton BN2 5BE
Southampton General Hospital
Tremona Rd
Southampton SO16 6YD
Morriston Hospital
Heol Maes Eglwys,
Morriston, Cwmrhydyceirw, Swansea SA6 6NL
New Cross
Wolverhampton Rd,
Heath Town, Wolverhampton WV10 0QP
Leeds General Infirmary
Great George St,
Leeds LS1 3EX
Cromwell Hospital
Cromwell Road Main Theatre
London SW5 0TU
University Hospitals Coventry And Warwick
Clifford Bridge Road
Coventry CV2 2DX
Alexandra Hospital
Mill Lane Materials Department
Cheadle SK8 2PX
Basildon Hospital
Nether Mayne
Basildon SS16 5NL
Spire Cardiff Hospital
Glamorgan House, Croescadarn Rd,
Pontprennau, Cardiff CF23 8XL
Spire St Anthonys Hospital
801 London Rd, Worcester Park
Sutton SM3 9DW
St Bartholomews Hospital
W Smithfield,
London EC1A 7BE
Spire Southampton Hospital
Chalybeate Cl
Southampton SO16 6UY
CHU Clermont Ferrand
58 Rue Montalembert
63000 Clermont-Ferrand, France
CHU Rennes
2 Rue Henri le Guilloux
35000 Rennes, France
Hôpital Trousseau
26 Avenue du Dr Arnold Netter
75012 Paris, France
CHU Reims
Rue du Général Koenig
51100 Reims, France
Centre Chirurgical Marie Lannelongue
133, avenue de la Résistance
92350 Le Plessis Robinson, France
CCN St Denis
36 Rue des Moulins Gémeaux
93200 Saint-Denis, France
Hôpital Privé Jacques Cartier
6, avenue du Noyer Lambert, 91349 Massy, France
Parly II
2 Avenue Charles de Gaulle
78150 Le Chesnay, France
CHU Montpellier
549 Avenue du Professeur Jean Louis Viala
34000 Montpellier, France
CHU Caen
Avenue de la Côte de Nacre
14000 Caen, France
Clinique St Martin
18 Rue des Roquemonts
14000 Caen, France
Clinique Pasteur
45 Avenue de Lombez – BP 27617
31300 Toulouse, France
CH Lens
99 Route de la Bassée
62300 Lens, France
CHU Nantes
5 allée de l'île Gloriette
44093 Nantes Cedex 01
Institut Arnault Tzanck
171 Rue du Commandant Gaston Cahuzac
06700 Saint-Laurent-du-Var, France
Hôpital La Timone
Boulevard Jean Moulin
13005 Marseille, France
CHP Clairval
317 Boulevard du Redon
13009 Marseille, France
CHU Rennes
2 Rue Henri Le Guilloux
35000 Rennes
CHU Dijon
23 Rue D Gaffarel
21000 Dijon
Hôpital Trousseau
Avenue de la République
37170 Chambray les Tours, France
Hôpital Européen Georges Pompidou
Rue Du Prof Florian Delbart
75015 Paris, France
Hôpital Henri Mondor
6 Rue Sarrail
94000 Créteil, France
IMM Paris
59 Avenue Reuille
5014 Paris, France
Hôpital Pitié Salpêtrière
52 Boulevard Vincent Auriol
75013 Paris, France
CHU Nantes
Cote Saint Sebastien
44000 Nantes, France
Hôpital Saint Joseph
26 Boulevard De Louvain
13008 Marseille, France
Clinique De La Sauvegarde
480 Avenue Ben Gourion
69009 Lyon, France
Clinique Protestante
3 Chemin du Penthod
69300 Caluire-et-Cuire, France
Clinique Du Millénaire
220 Boulevard Pénélope
4000 Montpellier, France
C.H.R. De Metz Thionville
9 Rue Château Jeannot
57100 Thionville, France
Clinique Saint Pierre
169 Avenue de Prades
66000 Perpignan, France
Hôpital De Clocheville
49 Boulevard Béranger
37044 Tours, France
Hôpital Privé de Bois Bernard
Route de Neuvireuil
62320 Rouvroy, France
Helios Klinik Für Herzchirurgie Karlsruhe
Franz-Lust-Straße 30
76185 Karlsruhe, Germany
Mediclin Herzzentrum Lahr
Hohbergweg 2
77933 Lahr/Schwarzwald, Germany
Universitäts-Herzzentrum Freiburg
Bad Südring 15
79189 Bad Krozingen, Germany
Universitätsklinikum Ulm
Albert-Einstein-Allee 23
89081 Ulm, Germany
Herz- und Gefäßklinik Gmbh Bad Neustadt
Salzburger Leite 1
97616 Bad Neustadt an der Saale, Germany
Klinikum Augsburg
Stenglinstraße 2
86156 Augsburg, Germany
Klinikum Nürnberg
Prof.-Ernst-Nathan-Straße 1
90419 Nürnberg, Germany
Klinikum Passau
Innstraße 76
94032 Passau, Germany
Universitätsklinikum Erlangen
Maximilianspl. 2
91054 Erlangen, Germany
Universitätsklinikum Würzburg
Josef-Schneider-Straße 2
97080 Würzburg, Germany
Deutsches Herzzentrum Berlin
Augustenburger Pl. 1
13353 Berlin, Germany
Immanuel Klinikum Bernau Herzzentrum
Ladeburger Str. 17
16321 Bernau bei Berlin, Germany
Universitäres Herzzentrum Hamburg Gmbh
Martinistraße 52
20251 Hamburg, Germany
Kerckhoff Klinik Gmbh
Benekestraße 2-8
61231 Bad Nauheim, Germany
Krankenhaus der Barmherzigen Brüder
Nordalle 1
54292 Trier
St. Josefs Hospital Wiesbaden Gmbh
Beethovenstraße 20
65189 Wiesbaden, Germany
Segeberger Kliniken Gmbh
Am Kurpark
23795 Bad Segeberg
Mediclin Herzzentrum Coswig
Lerchenfeld 1
03869 Coswig
Asklepios Klinik Sankt Augustin
Arnold-Janssen-Straße 29
53757 Sankt Augustin, Germany
Berufsgenossenschaftliches Universitätsk
Bürkle de la Camp-Platz 1
44789 Bochum, Germany
Medizinische Hochschule Hannover
Carl,Neuberg-Strasse
30625 Hannover, Germany
Helios Klinikum Krefeld
Lutherpl. 40
47805 Krefeld, Germany
Herzzentrum des Universitätsklinikums Köln
Kerpenerstr. 62
50937 Köln, Germany
Helios Klinikum Siegburg
Ringstraße 49
53721 Siegburg, Germany
Helios Klinikum Wuppertal
Heusnerstraße 40
42283 Wuppertal, Germany
St. Johannes-Hospital Dortmund
Johannesstraße 9-17
44137 Dortmund, Germany
Universitätsklinikum Aachen AÖR
Pauwelsstraße 30
52074 Aachen, Germany
Universitätsklinikum Düsseldorf
Moorenstraße 5
40225 Düsseldorf, Germany
Bundeswehrzentralkrankenhaus Koblenz
Rübenacher Str. 170
56072 Koblenz, Germany
Klinikum der Stadt Ludwigshafen Am Rhein
Bremserstraße 79
67063 Ludwigshafen am Rhein, Germany
Universitätsmedizin der Johannes-Gutenberg-Universität
Langenbeckstraße 1
55131 Mainz, Germany
Shg-Kliniken Völklingen
Richardstraße 5-9
66333 Völklingen, Germany
Universitätsklinikum des Saarlandes
Kirrberger Str. 100
66421 Homburg, Germany
Herzzentrum Leipzig Gmbh
Strümpellstraße 39
04289 Leipzig, Germany
Universitätsklinikum Magdeburg A.Ö.R.
Leipziger Str. 44,
39120 Magdeburg, Germany
Hospital Universitario Virgen de la Victoria
Campus de Teatinos
29010 Málaga, Spain
Ciudad Sanitaria I Universitaria De Bell
Carrer de la Feixa Llarga, s/n
08907 L'Hospitalet de Llobregat, Barcelona, Spain
Complejo Hospitalario Universitario
As Xubias, 84
15006 A Coruña, La Coruña, Spain
Grupo Hospitalario Quiron, S.A.
Paseo de la Castellana, 95. Torre, Europa, pl 16.
28046 Madrid, Spain
Hospital Clinic I Provincial de Barcelona
Carrer de Villarroel, 170
08036 Barcelona, Spain
Hospital Clínico San Carlos
Calle del Prof Martín Lagos, s/n,
28040 Madrid, Spain
Hospital De Basurto – Osakidetza
Montevideo Etorb., 18
48013 Bilbo, Bizkaia, Spain
Hospital Son Espases
Crta. de Valldemossa, 79
07010 Palma Mallorca, Spain
Medicina Asturiana, S.A. – Centro Médico
Avenida Richard Grandío 3
33193 Latores, Spain
Sacyl-Hos. Clinico Universit. Valladolid
Avda. Ramón y Cajal, S/N
47011 Valladolid, Spain
Barnaclinic, S.A
C/ Villaroel 170
08036 Barcelona, Spain
Clinica Corachan, S.A.
Buigas, 19
08017 Barcelona, Spain
Hospital De Cruces
Plaza de Cruces, S/N
48903 Baracaldo, Vizcaya, Spain
Hospital De Navarra
Calle de Irunlarrea, 3
31008 Pamplona, Navarra, Spain
Hospital General Universitario Gregorio
Calle del Dr. Esquerdo, 46
28007 Madrid, Spain
Hospital Nisa 9 De Octubre
Carrer de la Vall de la Ballestera, 59
46015 València, Spain
Hospital Universitario de Girona
Avenida França, S/N
17007 Gerona, Girona, Spain
Hospital Universitario Germans Trias I P
Carretera de Canyet, s/n
08916 Badalona, Barcelona, Spain
Hospital Universitario Marqués de Valdecilla
Av. Valdecilla, 25
39008 Santander, Cantabria, Spain
Hospital Virgen de la Salud
Complejo H 3 Av. de Barber, 30
45004 Toledo, Spain
Institut Universitari Dexeus
Carrer de Sabino Arana, 5, 19
08028 Barcelona, Spain
Valencia-Imedlevante-Farmacia
Avenida de la Ilustración, 1,
46100 Burjassot, Valencia, Spain
Bio Sud Medical System Srl
Via dei Fabbri, 23/25
70026 Modugno BA, Italy
Ome-Istituto Clinico San Rocco Spa
Ome Via dei Sabbioni, 24
25050 Ome BS, Italy
Bambin Gesù
Piazza di Sant'Onofrio, 4
00165 Roma RM, Italy
Borgo Trento
Via C. Sartori, 6
38100 Trento, Italy
Casa Sollievo della Sofferenza
San Gio
71013 San Giovanni Rotondo, Province of Foggia, Italy
Centro Cardiologico Monzino
Via Carlo Parea, 4
20138 Milano MI, Italy
Clinica Villa Verde (Taranto)
Via Golfo di Taranto, 22
74121 Taranto TA, Italy
European Hospital
Via Portuense, 700
00149 Roma RM, Italy
Gavazzeni Clinic
Via Mauro Gavazzeni, 21
24125 Bergamo BG, Italy
Ist.Giannina Gaslini
Via Gerolamo Gaslini, 5
16147 Genova GE, Italy
Magazz.Generale Ospedale
Via S. Pio V, 47-45
15121 Alessandria AL, Italy
Massa Fondazione Monasterio
Via Giuseppe Moruzzi, 1
56124 Pisa PI, Italy
Milano S.Ambrogio
Via Traiano 8
20149 Milano, Italy
Molinette Torino
Corso Bramante, 88
10126 Torino TO, Italy
European Hospital (Medical Lab)
Via Portuense,700
00149 Roma, Italy
Hesperia Hospital (Medical Lab)
Via Arqua' 80/A
41125 Modena, Italy
Policlinico Di Monza
Via Amati, 111
20052 Monza, Italy
S. Matteo Pavia
Via Forlanini  20
27100 Pavia, Italy
S.Maria Di Terni
Via Tristiano Di Joannuccio
05100 Terni, Italy
Osp.Ca'Foncello
11 Piazza Ospedale
31100 Treviso, Italy
Vicenza Osped. S.Bortolo
Via Cavour, 26
36031 Vicenza, Italy
Aou S. Orsola
Viale Ercolani,4
40138 Bologna, Italy
C.D.C S.Gaudenzio
Via Bottini, 3
28100 Novara, Italy
Ospedale Civile Di Sassari
Via Montegrappa 80
07100 Sassati, Italy
Ospedale Niguarda
Piazza dell'Ospedale Maggiore, 3
20162 Milano, Italy
Ospedale San Carlo
Via Pio II, 3
20153 Milano MI, Italy
Ospedale Santa Maria della Misericordia
Piazzale Santa Maria della Misericordia, 15
33100 Udine UD, Italy
Ospedali Riuniti di Ancona
Via Conca, 71
60030 Torrette, Ancona AN, Italy
Pio XI
Via Aurelia 559
00165 Roma, Italy
Poliambulanza Brescia
Via Leonida Bissolati, 57
25124 Brescia BS, Italy
Presidio Pineta Grande Srl
Castelvoltu Pineta Grande
81030 Province of Caserta, Italy
Salerno Az. Osp. – Salerno ospedale
Via San Leonardo
Salerno SA, Italy
San Camillo
Circonvallazione Gianicolense, 87
00152 Roma RM, Italy
Asst Mantova
Pieve Di Coriano Str. Lago Paiolo, 10
46100 Mantova MN, Italy
Firenze Careggi Hospital
Largo G. Alessandro Brambilla
50134 Firenze FI, Italy
Legnano Magazzino Generale Ospedale
Via Papa Giovanni Paolo II
20025 Legnano, Italy
Mauriziano Torino
Corso Turati, 62
10128 Torino TO, Italy
Milano Osp.Niguarda Blocco Op,
Via Ausonio Zubiani
20161 Milano MI, Italy
Austria
Klinikum Klagenfurt Am Wörthersee
Feschnigstraße 11
9020 Klagenfurt am Wörthersee, Austria
A.Ö. Landeskrankenhaus Innsbruck-Universitätsklinik
Anichstraße 35
6020 Innsbruck, Austria
Allgemeines Krankenhaus der Stadt Wien
Währinger Gürtel 18-20
1090 Wien, Austria
Klinikum Wels-Grieskirchen Gmbh
Grieskirchner Str. 42
4600 Wels, Austria
Krankenhaus Hietzing
Riedelgasse 5
1130 Wien, Austria
Landeskrankenhaus Salzburg
Müllner Hauptstraße 48
5020 Salzburg, Austria
Kepler Universitätsklinikum Gmbh
Krankenhausstraße 9
4020 Linz, Austria
Universitätsklinikum St. Pölten
Dunant-Platz 1
3100 St Pölten, Austria
Benelux
University Hospital Antwerp
Wilrijkstraat 10
2650 Edegem, Belgium
Zna Campus Middelheim
Lindendreef 1
2020 Antwerpen, Belgium
Hôpital Universitaire Erasme
Route de Lennik 808
1070 Bruxelles, Belgium
Grand Hôpital De Charleroi
rue de l'hôpital
6060 Gilly (Charleroi), Belgium
Chr De La Citadelle Liège
bd du 12ième de Ligne 1
4000 Liège, Belgium
Ziekenhuis Oost-Limburg
Schiepse Bos 6 – Loskade 3000/Ster.Mat
3600 Genk, Belgium
Uz Leuven
Herestraat 49
3000 Leuven, Belgium
Onze Lieve Vrouw Ziekenhuis
Moorselbaan 164
9300 Aalst, Belgium
Incci (Haerzfondatioun)
rue E. Barblé 4 / soir 2A
1210 Luxembourg, Luxemburg
Erasmus Medisch Centrum
Doctor Molewaterplein 40
3015 GD Rotterdam, Netherlands
Mumc Maastricht
P. Debyelaan 25
6229 HX Maastricht, Netherlands
St Antonius Ziekenhuis
Polanerbaan 2
3447 GN Woerden, Netherlands
Umc Utrecht
Heidelberglaan 100
3584 CX Utrecht, Netherlands
Czech Republic
Nemocnice Na Homolce
Roentgenova 37/2, 150 30
Praha 5, Czechia
Cktch Brno
Pekařská 53, 656 91
Brno-střed, Czechia
Finland
Helsinki University Hospital
Topeliuksenkatu 5,
00260 Helsinki, Finland
Greece
Γενικο Στρατιωτικο Νοσοκομειο – Αθην
Leof. Panagioti Kanellopoulou
Athina 115 25, Greece
Metropolitan-General A.E.
264 Mesogion Avenue,
15562, Holargos, Athens, Greece
Onassis
356 Syngrou Avenue,
117 45, Athens, Greece
ατρικο Διαβαλκανικο Κεντρο Θεσσ/Κησ – Π
10 Asklipiou Street,
Kyvelia, 546 39, Thessaloniki, Greece
Ιατρικο Αθηνων Ε.Α.Ε. – Μαρουσι
Distomou 5-7,
Marousi 151 25, Greece
Attikon
Rimini 1
Chaidari 124 62, Greece
Iceland
Skurðstofur Lsh
Landspítali
DEILD 12CD
Hringbraut
101, Reykjavik, Iceland
Ireland
Blackrock Clinic
Rock Rd, Intake,
Blackrock, Co. Dublin, A94 E4X7, Ireland
Mater Private
Eccles St, Inns Quay,
Dublin 7, Ireland
Mater Misericordiae University Hospital,
Eccles St, Inns Quay,
Dublin 7, Ireland
Our Lady's Children's Hospital
Cooley Rd
Crumlin, Dublin, D12 V004, Ireland
Latvia
Paul Stradins Hospital
Pilsoņu iela 13, Zemgales priekšpilsēta,
Rīga, LV-1002, Latvia
Norway
Helse Bergen Haukeland universitetssjukehus
THORAXKIR TKS
EKSP 2 ET SOP
Sentralblokka varemottak, Jonas Lies vei 65
5021, Bergen, Norway
Poland
Bydgoszcz, Su1, Sklodowskiej
Ul. M. Skłodowskiej-Curie 9,
85-904 Bydgoszcz, Poland
Katowice, Spsk7 Gcm, Ziolowa
Ul. Ziołowa 45/47,
40-635 Katowice, Poland
Lodz, Wss Im.Bieg, Kniaziewicza
Kniaziewicza 1/5,
91-347 Łódź, Poland
Poznan, Wielospec.Sz.Strusia,Szwajcarska
Szwajcarska 3,
61-285 Poznań, Poland
Um Im. Karola Marcinkowskiego Szpital Kl
Ul. Długa 1/2,
61-848 Poznań, Poland
Warszawa, Czd, Al.Dzieci Polskich
Al. Dzieci Polskich 20,
04-730 Warszawa, Poland
Warszawa, Ik, Alpejska
Alpejska 42,
04-628 Warszawa, Poland
Warszawa, Spcsk, Banacha
Stefana Banacha 1a,
02-097 Warszawa, Poland
Portugal
Hospital S.Cruz – Ocidental – Carnaxide
Av. Prof. Dr. Reinaldo dos Santos 2790-134
Carnaxide, Portugal
Hospital Cuf Porto, Sa
Estrada da Circunvalação 14341,
4100-180 Porto, Portugal
Hospital Da Arrabida-Gaia S.A.
Praceta de Henrique Moreira 150,
4400-346 Vila Nova de Gaia, Portugal
Hospital Da Luz
Av. Lusíada 100,
1500-650 Lisboa, Portugal
Hospital Da Trofa
R. António Sá Couto de Araújo 105,
4785-409 Trofa, Portugal
Hospital De Santa Maria
Av. Prof. Egas Moniz s/n,
1649-035 Lisboa, Portugal
Hospital De Santa Marta, E.P.E.
R. de Santa Marta,
1169-024 Lisboa, Portugal
Hospital De São João
4200-319 Porto, Portugal
Sweden
Karolinska Universitetssjukhuset
Eugeniavägen 3,
171 76 Solna, Sweden
Blekingesjukhuset,
Bättringsvägen
Levereras direkt till avd., Thoraxoperation,
37185 Karlskrona, Sweden
Universitetssjukhuset Lund
Getingevägen 4,
221 85 Lund, Sweden
Akademiska Universitetssjukhuset
Sjukhusvägen 10,
751 85 Uppsala, Sweden
Switzerland
Clinique Cecil
Avenue Louis-Ruchonnet 53,
1003 Lausanne, Switzerland
Hôpital De Sion
Avenue du Grand-Champsec 80,
1951 Sion, Switzerland
Hôpitaux Universitaires de Genève
Rue Gabrielle-Perret-Gentil 4,
1205 Genève, Switzerland
CHUV
Rue du Bugnon 46
1011 Lausanne, Switzerland
Hirslanden Klinik Aarau
Schänisweg,
5001 Aarau, Switzerland
Inselspital
Freiburgstrasse 18,
3010 Bern, Switzerland
Klinik Beau-Site
Schänzlihalde 11,
3013 Bern, Switzerland
Klinik Im Park
Seestrasse 220,
8027 Zürich, Switzerland
Luzerner Kantonsspital
Spitalstrasse,
6000 Luzern, Switzerland
Stadtspital Triemli
Birmensdorferstrasse 497,
8063 Zürich, Switzerland
Universitätsspital Basel
Spitalstrasse 21,
4031 Basel, Switzerland
Universitätsspital Zürich
Rämistrasse 100,
8091 Zürich, Switzerland
Klinik Hirslanden
Witellikerstrasse 40,
8032 Zürich, Switzerland
* RESILIA tissue tested against commercially available bovine pericardial tissue from Edwards in a juvenile sheep model.8 No clinical data are available that evaluate the long-term impact of RESILIA tissue in patients.
† Refer to device instructions for use for important warnings related to VFit technology. These features have not been observed in clinical studies to establish the safety and effectiveness of the INSPIRIS RESILIA valve for use in ViV procedures. VFit technology is available in sizes 19–25 mm.6
‡ A retrospective cohort analysis of 4253 patients, aged 50-69 years, who underwent AVR with either mechanical (n=1466) or tissue valves (n=2787). Primary outcome was all-cause mortality; secondary outcomes were stroke, reoperation, and major bleeding. Overall median follow-up time was 10.8 years.7
§ A retrospective study of 373 patients, aged 16-60 years, undergoing AVR using the Carpentier-Edwards PERIMOUNT pericardial aortic bioprosthesis, with a mean follow-up period of 8.6±5.9 years and a cumulative follow-up of 3,299 valve-years. The median valve durability, calculated by the MST based on actuarial freedom from SVD, was 17.6 years (95% CI, 16.3 to 18.8).14
¶ No clinical data are available that evaluate the long-term impact of the Edwards Lifesciences tissue treatments in patients.
References
Zhao DF, Seco M, Wu JJ, et al. Ann Thorac Surg. 2016;102(1):315-27.
Brown JM, O'Brien SM, Wu C, et al. J Thorac Cardiovasc Surg. 2009;137:82-90.
Head SJ, MeÇelik M, Kappetein AP, et al. Eur Heart J. 2017;38(28):2183–2191.
Schnittman SR, Adams DH, Itagaki S, et al. J Thorac Cardiovasc Surg. 2018;155:539–547.
Baumgartner H, Falk V, Bax JJ, et al. Eur Heart J. 2017;38:2739–2791.
Edwards Lifesciences. INSPIRIS RESILIA Aortic Valve, Model 11500A, DRAFT. 2018.
Chiang YP, Chikwe J, Moskowitz AJ, et al. JAMA. 2014;312(13):1323-9.
Flameng W, Hermans H, Verbeken E, et al. J Thorac Cardiovasc Surg. 2015;149:340–345.
Griffith BP, Bavaria JE, Gammie JS, et al. Four-year outcomes of aortic valve replacement with a bioprosthetic valve with a novel tissue. Oral presentation at the 99th Annual American Association for Thoracic Surgery Meeting, Canada (May 4–7), 2019.
Puskas JD, Bavaria JE, Svensson LG, et al. Eur J Cardiothorac Surg. 2017;52(3):432–439.
Griffith BP, Bavaria JE, Gammie JS, et al. Intermediate-term outcomes of aortic valve replacement with a bioprosthetic valve with a novel tissue abstract 339. 99th Annual American Association for Thoracic Surgery Meeting, Canada (May 4–7), 2019.
Edwards Lifesciences. Surgical aortic pericardial valves. 2019. Available at: https://www.edwards.com/devices/heart-valves/aortic-pericardial. Accessed May 2019.
Edwards Lifesciences. Magna Ease Pericardial Bioprosthesis Model 3300TFX Aortic. 2006.
Bourguignon T, El-Khoury R, Candolfi P, et al. Ann Thorac Surg. 2015;100:853–859.
Abbreviations
AVR, aortic valve replacement; CI, confidence interval; CoCr, cobalt chromium; EACTS, The European Association for Cardio-Thoracic Surgery; ESC, European Society of Cardiology; FDA, Food and Drug Administration; INR, international normalised ratio; MST, median survival time; NYHA, New York Heart Association; PVL, paravalvular leak; SVD, structural valve deterioration; US, United States; ViV, valve-in-valve.
Download free AVR tools: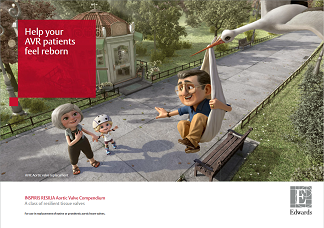 An in-depth exploration of treatments and evidence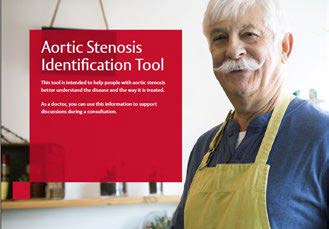 A patient-friendly visual consultation guide
DOWNLOAD NOW